Use your focaccia as a canvas and decorate it to your heart's desire! Top your dough with cut out shapes from potatoes, bell peppers, tomatoes, etc., and create a nice centerpiece for any occasion.
The recipe I use is by Alexandra Cooks with a few tweaks, which is described in the tutorial below.
Disclaimer: this post contains affiliate links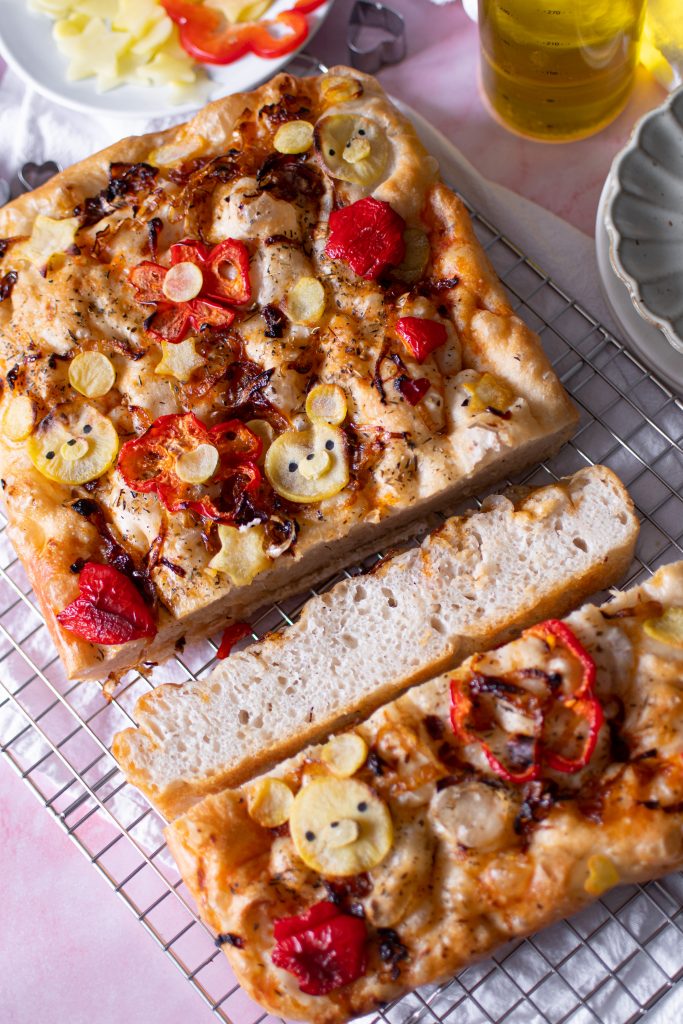 About this cute focaccia bread
When I first started Bites by Bianca in 2020, I focused quite a bit on bread art. One of my earliest blog posts was about how to paint sourdough, and I painted a bunch of different designs that are posted waaaay back on my Instagram. And even though I've made two focaccia bread art pieces (Pikachu & Snorlax!), I never actually posted a tutorial. So, here I am… 2 years later… finally sharing how I did it.
For the Pikachu & Snorlax focaccias, I used Zucchini peels to make the outlines of the characters. Then, I topped the bread with random herbs, onions, and bell peppers. For this bear focaccia recipe, I drizzled on some spicy chili oil, scattered caramelized onions, and cut out shapes from potatoes and red bell peppers. I decorated the bears with a black edible marker, just to give them a 'lil face.
I used my favorite mini cookie cutter set, which has hearts, flowers, stars, circles, hexagons, ovals, triangles, squares, and rectangles of different sizes. They were perfect for the design I was envisioning for this bread and I highly recommend this cutter set if you'd like to recreate it. Otherwise, I suggest using an exacto knife or paring knife to get the shapes you need.
If you're interested in other kawaii recipes I have, check out these!: Chocolate Bear Mochi Muffins, Shortbread Bear Cookies, Aang Sugar Cookies, BlueBEARy cookies, Coconut Ube Bear Cookies, Red Velvet Bear Cookies, Strawberry Kirby Sugar Cookies, StrawBEARy Sugar Cookies, Bunny Sugar Cookies, Teddy Bear Chocolate Chip Cookies, Keroppi Matcha Sugar Cookies, Frog Matcha Sugar Cookies, Soft, Less Sweet Ube Sugar Cookie Bears (Dairy-Free!), Pig-Shaped Snickerdoodles (Vegan), Cat-Shaped Black Cocoa Cookies (Vegan), and Chick-Shaped Lemon Cookies.
The recipe
The recipe I use is actually "Overnight, Refrigerator Focaccia = The Best Focaccia Bread Recipe" by Alexandra. It's SUPER EASY and low maintenance. The only things I changed were the toppings I used and added 3g more salt.
Cute Focaccia Bread Art
Materials
Toppings
1-2

tbsp

spicy chili oil

flaky sea salt

herbs of your choice

caramelized onions

1

golden potato, cut into thin rounds

2

large red bell peppers: one cut horizontally to get flower shapes, the other flattened to use cookie cutters on
Instructions
Prep:
For the bears: Use small + medium circle cookie cutters on the potato rounds to cut out the bear heads and ears. Use a small oval cookie cutter for the snouts.

For random shapes: Use the various star, flower, and heart cookie cutters on the potato rounds and flattened bell pepper.
Decorate the bread:
Dimple the focaccia with oiled hands.

Drizzle on spicy chili oil then scatter on herbs, flaky sea salt, and caramelized onions.

Top the bread with the bears. The potato pieces may move a bit after baking, but you can use egg wash to help them stick together if you'd like.

Add the other shapes throughout the bread, using the red bell pepper as flower petals and potato circles as the middles.

Scatter flower, heart, and star pieces of potato and red bell pepper throughout the top of the bread.

Bake focaccia at 325°F for 25 minutes, or until golden. Remove from baking pan and cool on wire rack.

Use black edible marker to draw on bear faces.

*In the video above the recipe, I used the edible marker prior to baking. I actually recommend drawing the faces after baking—it's much easier and the ink is more opaque.