Chunky White Chocolate Matcha Cookies (Small Batch Recipe)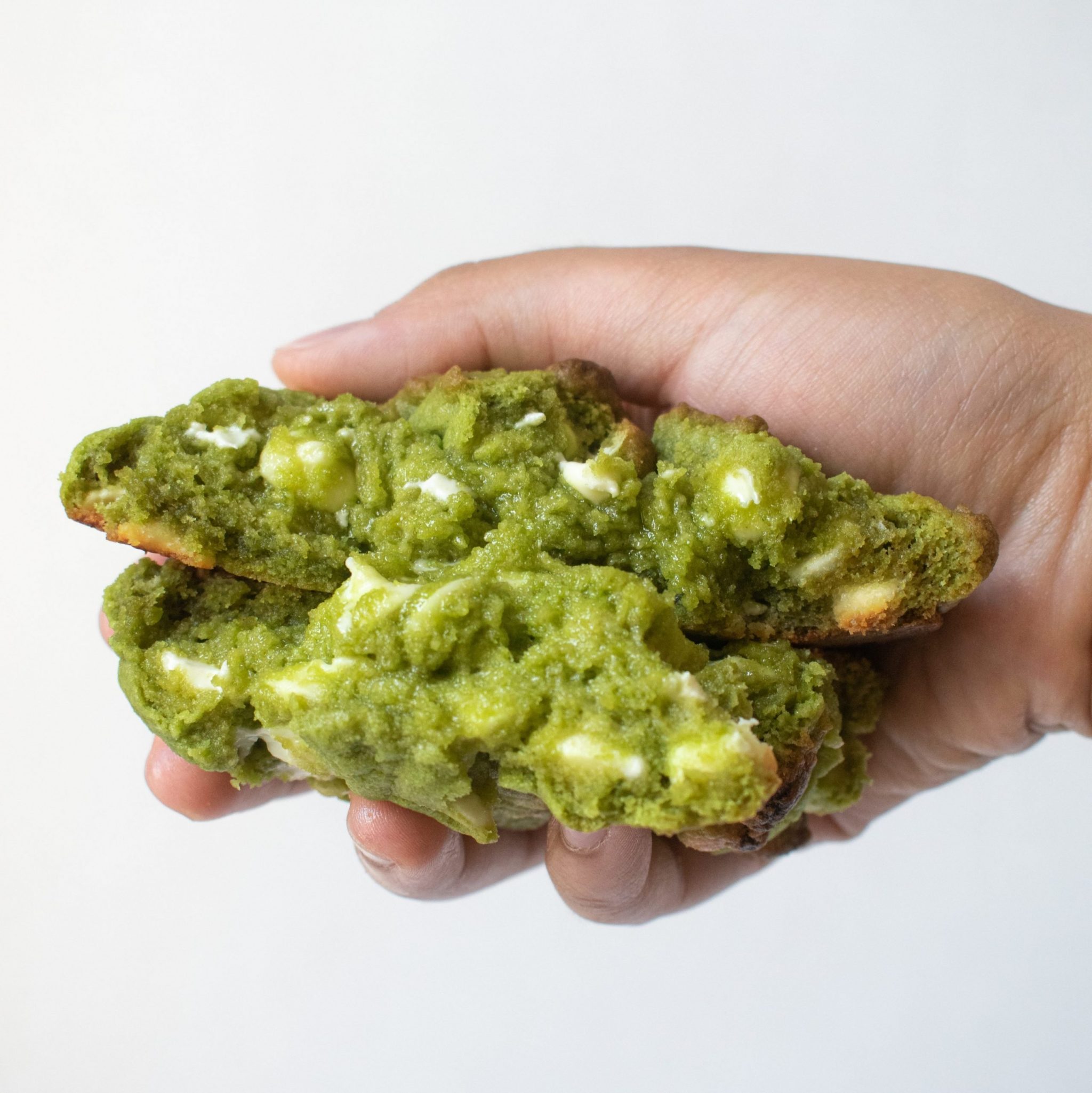 Estimated cost: $7.28 per 5 cookies, $1.46 per cookie
After making my chunky ube cookies, I was still… craving more cookies. Since I am a die hard fan of chunky cookies, I wanted to adapt that recipe to create new flavors. If you omit the ube, ube extract, and the mix-ins, you are left with a great base recipe to make whatever cookie flavor you want. So I decided to bake these gourmet white chocolate chip matcha cookies, which are now a new favorite of mine!
These matcha cookies have a crisp outside, gooey center, and are huge. Like, bigger than the palm of my hand huge. The white chocolate chips balance the slight bitterness of the matcha, but if you'd like to omit the white chocolate chips, I suggest adding a different mix-in. This will help the cookies hold their shape while baking, which will limit how much they spread in the oven. You could use a different type of chocolate, add nuts (I bet macadamia would be great!), or even do a combination of the two.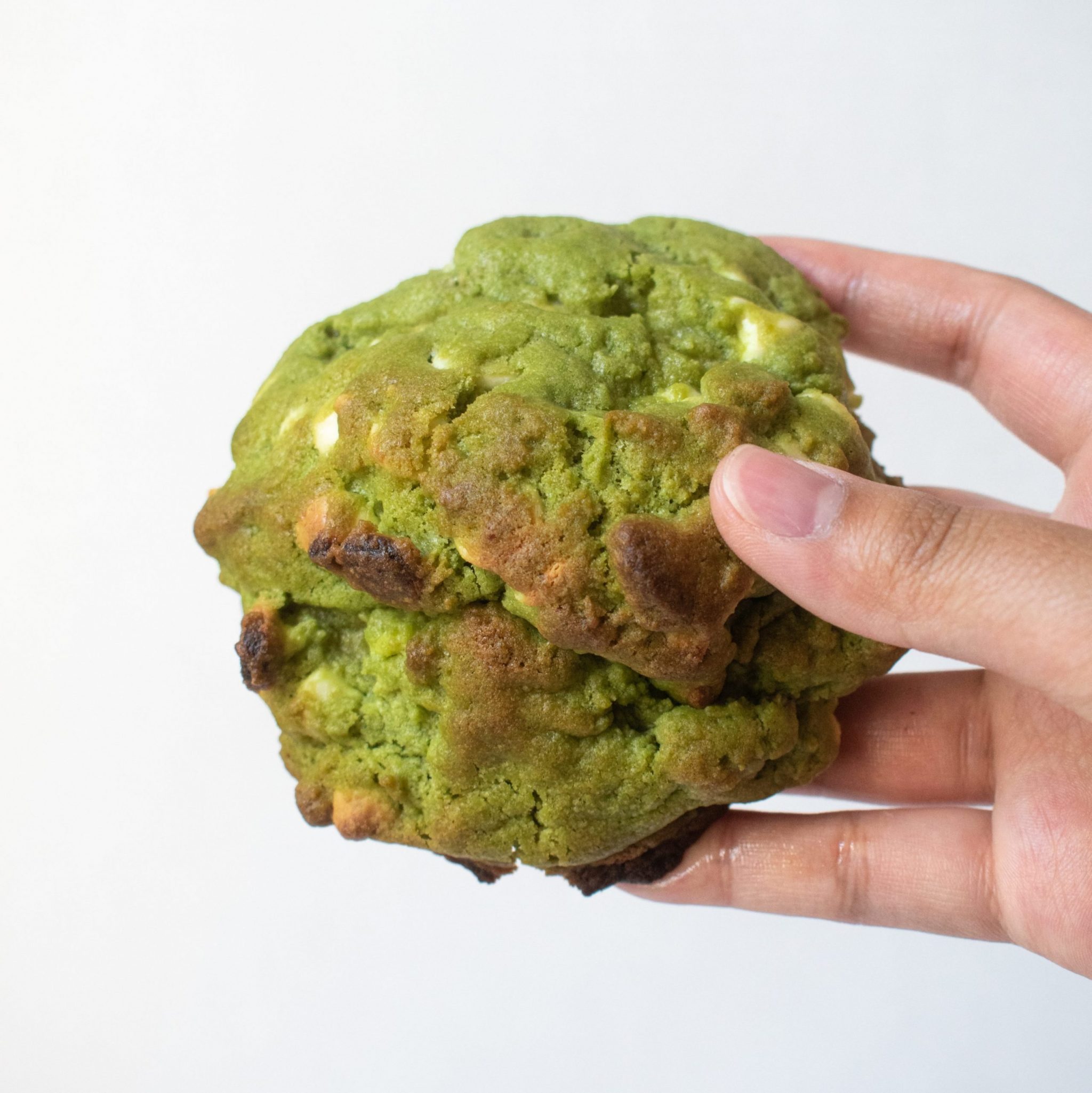 Recipe Tips:
Use an oven thermometer: Make sure you're actually baking at the right temperature. If your oven temperature is too low, the cookies will spread out and will take longer to bake. Lower temperatures + longer cooking times = thin cookies, while high temperatures + shorter cooking times = thick cookies.
Roughly shape your dough into mounds: Roughly shape the cookie dough. Do not compact the dough, roll it into balls, or flatten them. Just pile the dough on top of itself and you're good to go!
Freeze your shaped dough for at least 20 minutes: This ensures your cookies do not spread as much while baking. You can also keep the frozen dough in an airtight container for up to 3 months and bake them straight from the freezer! You will just have to increase your baking time by 2-3 minutes.
Let your baked cookies rest on the baking tray for at least 20-30 minutes: The cookies will still be cooking on the tray once you remove them the oven. Waiting allows them to fully cook and set.
FAQ
Do I need cake flour?
No, you can sub in regular all-purpose flour. They will be slightly less cakey, but will still taste delicious.
Can I make this vegan?
Yes! Sub in a high quality vegan butter (like Miyoko's). Other vegan butters melt at low temperatures, which may make your cookies spread out a LOT. So, I recommend using a high quality brand.
Can I make this gluten-free?
Yes. Just sub in 1:1 gluten-free flour, like by Bob's Red Mill.
If you'd like to make more cookies, simply double the ingredients! You can also make smaller sized cookies, but they will need less time baking. Just keep your eye on them so they don't burn in the oven. I really hope you enjoy this recipe. If you make these cookies, I'd love to see them. You can tag me at #bitesbybianca / @bitesbybianca on Instagram. Enjoy! 🙂
Chunky White Chocolate Matcha Cookies (Small Batch Recipe)
These gourmet cookies are chunky, gooey, and absolutely delicious. They were inspired by Levain Bakery's iconic cookies!
Ingredients
Dry ingredients:
½

cup

cake flour

(65g, $0.23, see notes)

1

cup

all-purpose flour

(120g, $0.29)

1

tsp

cornstarch

($0.01)

3/4

tsp

baking powder

($0.05)

1/2

tsp

baking soda

($0.01)

1/4

tsp

salt

($0.01)

1.5

tbsp

matcha

($0.80)
Wet ingredients:
½

cup

butter, cold and cut into tablespoons

(1 stick butter/8 tbsp, $1.25)

½

cup

brown sugar

(100g, $0.55)

1

egg

($0.17)

1

tsp

vanilla extract

($0.42)
Mix-ins:
1 ½-2

cups

white chocolate chips

(340g, $3.49)
Instructions
In a medium bowl, whisk together all of the dry ingredients: cake flour, all-purpose flour, cornstarch, baking powder, baking soda, salt, and matcha.

In a stand mixer using the paddle attachment, or large bowl with a hand mixer, mix the cold butter and brown sugar on medium speed until completely smooth, about 2-4 minutes.

Scrape down the sides and bottom of the bowl in the stand mixer. Add egg and vanilla extract to the bowl. Mix until combined, about 10-20 seconds.

Scrape down the sides and bottom of the bowl again. Add all of the dry ingredients to the stand mixer and pulse a few times until it is mostly incorporated. Add all of the white chocolate chips. Pulse a few more times.

Divide the dough into 5 pieces, about 5-6oz each. Roughly shape the dough into tall mounds using your hands. Place them on a lined baking sheet or plate, and freeze for at least 30 minutes. Freezing ensures that they do not spread too much while baking.Note: You can store the frozen dough in an airtight container in the freezer for up to 3 months. You can bake them right from the freezer, but you will have to increase the baking time by 2-3 minutes.

Place oven rack in the middle of the oven. Preheat the oven to 400°F/204°C.

Line a baking sheet with parchment paper or silicone mat. Place each dough mound about 3 inches apart on one baking sheet (you will only be able to fit about 4-5 cookies on one sheet!). Bake for 10-13 minutes. They are done when the tops and sides are a little brown.

Remove baked cookies from oven. Allow them to cool completely on the baking sheet for about 20-30 minutes and do not touch them, since they will continue cooking on the sheet! They are very soft/delicate right after baking and need to set.
Notes
If your oven runs cold, then they may spread more when baking. If your oven runs hot, then they might brown more quickly. I use an oven thermometer, which shows me the right temp and is really helpful for my baking! 
You can freeze the unbaked shaped dough in an airtight container for up to 3 months. You can bake straight from the freezer, just adjust the baking time by 2-3 more minutes. 
If you want to omit the white chocolate chips, you must add a different mix-in with the same volume as a replacement, or the cookies will spread a bit! I suggest using different chocolate chips, nuts (macadamias would be great!), etc. 
You can replace the cake flour with regular all-purpose flour. They will not be as light/fluffy, but still good!
To make this vegan: sub in high quality vegan butter (like Miyoko's) and vegan egg (JustEgg)
To make this gluten-free: sub in 1:1 gluten-free flour