Teddy Bear Chocolate Chip Cookies (with EASY ICING RECIPE!)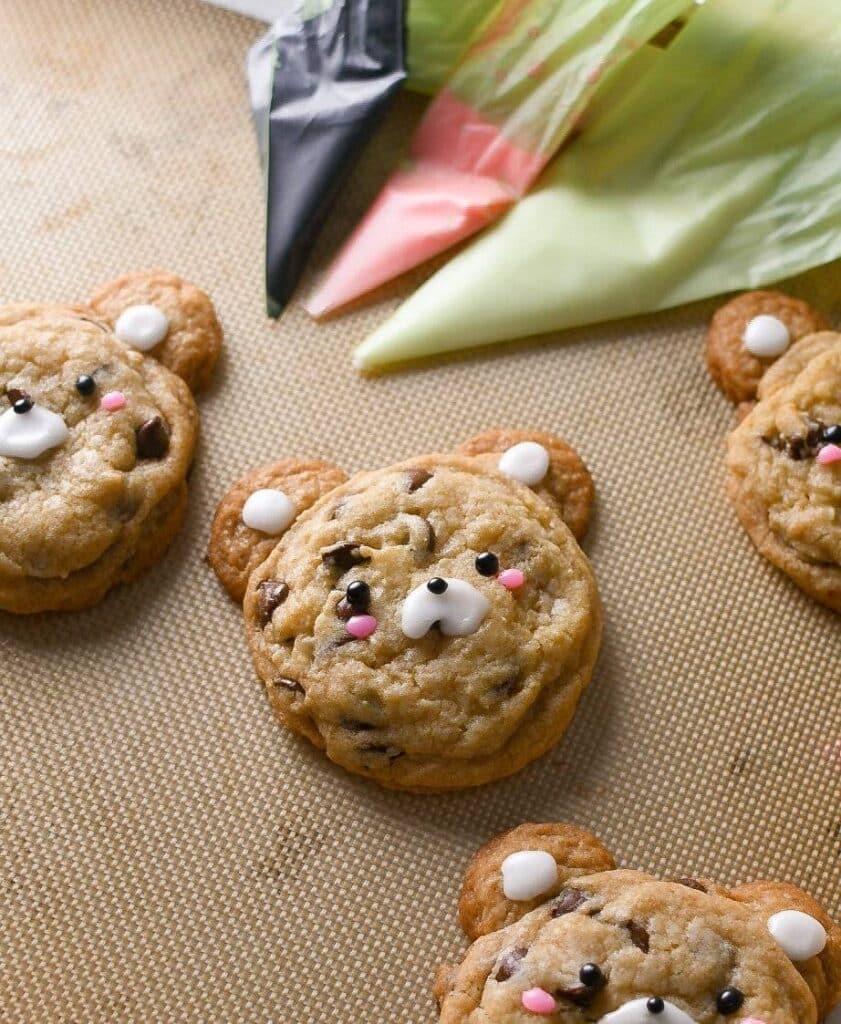 Estimated cost: $4.75 per 12 cookies, $0.40 per cookie
About these teddy bear cookies
Wow, it's been a few months since my last post! Life has been pretty busy for me because I moved to a different neighborhood in Boston, switched jobs, and had my first few pop-ups! But, now I'm back with one of the classics: chocolate chip cookies. Kawaii, of course.
Over the past few days, I was brainstorming what kind of cookie recipe I should share next. Then, I realized I never even posted a basic chocolate chip one! So, here is one of my OG cookie recipes. These bear cookies are soft, a 'lil ~chewy and gooey~, and just a bit too cute to eat. They're super easy to decorate, too. I came up with a VERY SIMPLE icing recipe. No royal icing needed or anything fancy. That means no egg whites, aquafaba, glycerin, yadda yadda. Just powdered sugar and a bit of water.. seriously. However, if you don't want to make icing, you can always use melted dyed white chocolate instead.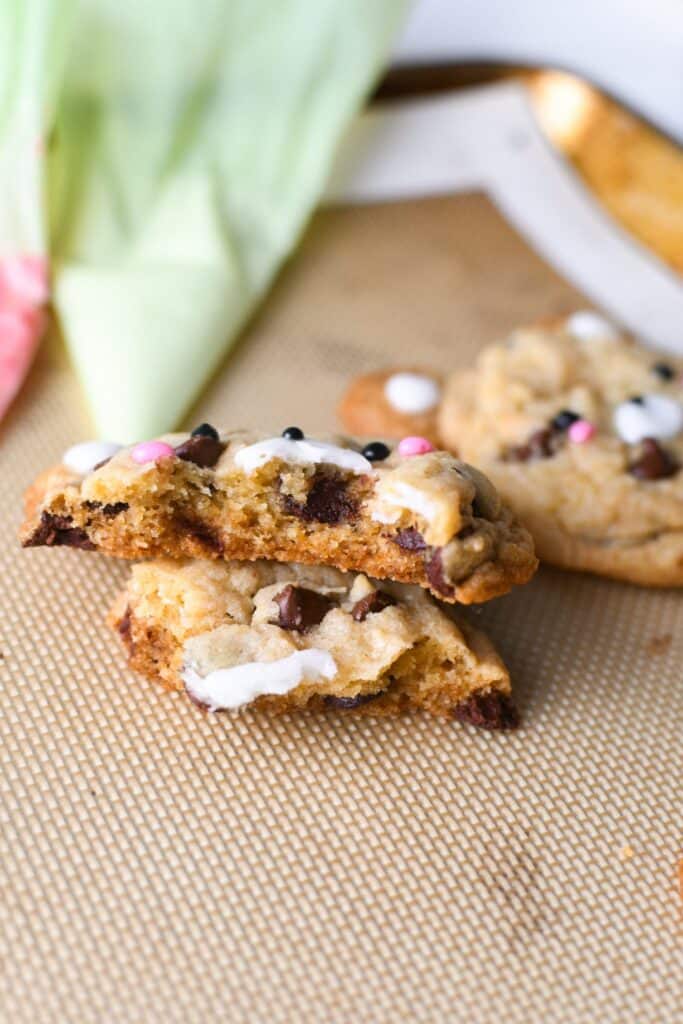 How to make basic cookie dough batter
For these cookies, I started off by creaming *mostly* melted butter with brown + granulated white sugar. And by mostly melted butter, I mean I took a stick of butter from the fridge, unwrapped it, plopped it into a bowl, and microwaved for 20-30 seconds. I then handwhisked the butter and sugars together until fully combined.
Afterwards, I added the egg and vanilla, and mixed until very smooth. Then, I added the chocolate chips and dry ingredients (flour, baking soda, baking powder, salt) at the same time. And with a rubber spatula, I mixed the dough just until no dry flour remained.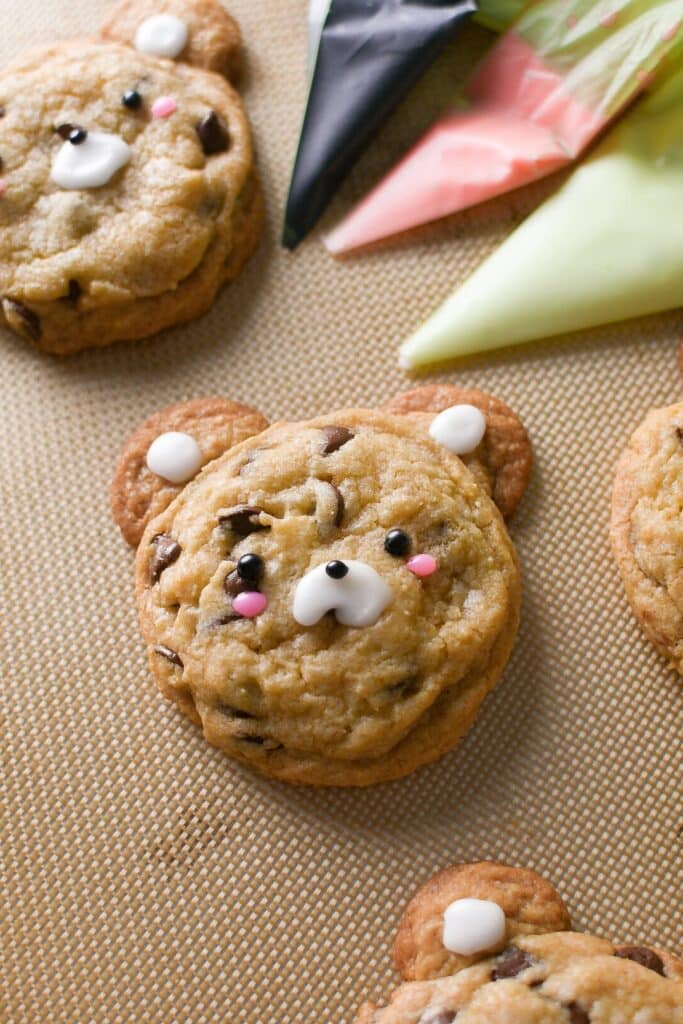 FAQ
Can I make vegan chocolate chip cookies?
Yes, you can!
Instead of regular butter, you can swap in high quality vegan butter made for baking. Make sure to use a good brand—some brands are very high in water content and melt at lower temperatures, yielding very flat cookies. I recommend brands like Miyokos and Country Crock.
You can also omit the egg. First, follow the recipe up until you add the flour, baking powder/soda, and salt. Slowly mix the dry ingredients in. If the dough seems too crumbly, add a tablespoon of alternative milk at a time (2-4 tbsp total), until the dough comes together. The finished dough should be thick, but scoopable.
And remember to be mindful of what mix-ins you use! Opt for vegan brands.
Can I make them gluten-free?
Yes! To make these pumpkin cookies gluten-free, I recommend using a high quality 1:1 gluten-free flour, like King Arthur or Bob's Red Mill.
Tips for baking and decorating
Properly measure the flour
I always like to measure my ingredients with a kitchen scale for consistent, accurate results. But if you're measuring with cups, make sure you follow this tip: gently spoon in the flour into the cup until it's full, then scrape the excess off using the back of a knife or offset spatula.
If you scoop the cup directly into the flour bag or container, the flour may get compacted, and you will be adding in more flour than necessary. On the other hand, if your flour is clumpy, you could be adding in chunks of flour into the cup with gaps in between them, possibly adding less flour than required. These instances can cause tougher or even really flat cookies, since the proper ratio of dry:wet ingredients isn't met.
So, for best results, use a scale. If you don't have one, gently spoon and level the flour into your measuring cup!
Shaping the dough
For each teddy bear cookie, you'll want to use a small cookie scoop, or gather about 1 ½ tbsp of dough. Shape it into a ball and place it onto your lined baking tray. Repeat for about 14 more cookies, making sure you have some left over for the ears.
For the ears, take about 1/2 tsp of dough, and split it into two equally sized pieces. Roll into balls and place on the sides of the bears' heads. As the cookies baked in the oven, the ears connected with the head, forming the teddy bear shape. It's as simple as that!
How to make the bear faces
As the bear cookies cooled after baking, I mixed powdered sugar and water into a bowl until it was a pipeable consistency. I placed more than half of the icing into a piping bag. This was the white color for the snout and ears.
To the rest of the icing in the bowl, I added a little pink food coloring. I mixed it and then added half of it to a new piping bag. This was for the blush.
To the remaining icing in the bowl, I added black food coloring. I mixed it, then added it to a new piping bag. This was for the nose and eyes.
I snipped the very tips of the piping bags and first piped the snouts and ears. Once the snouts were semi-dry, I piped on the noses and eyes, then finished the cookies with blush.
And there you have it! Super easy teddy bear chocolate chip cookies.
I really hope you enjoy this recipe. If you make these bear-shaped chocolate chip cookies, I'd love to see them. You can tag me at #bitesbybianca / @bitesbybianca on Instagram. Enjoy!
Teddy Bear Chocolate Chip Cookies (with EASY ICING RECIPE!)
The classic chocolate chip cookie meets kawaii baking.
These cookies are soft, have a slight chew, and are balanced with the perfect amount of salt.
Ingredients
Dry ingredients:
1 ½

cup

all-purpose flour

(180g, $0.44)

¼

tsp

baking powder ($0.01)

½

tsp

baking soda

($0.01)

¾

tsp

salt

($0.01)
Wet ingredients:
½

cup

unsalted butter

(1 stick butter/8 tbsp, $1.25)

⅓

cup

brown sugar, packed

(66g, $0.36)

½

cup

granulated sugar

(100g, $0.19)

1

egg

($0.17)

1

tsp

vanilla extract

($0.42)
Mix-ins:
1

cup

chocolate chips

(170g, $1.74)
Decorations for face:
4

tbsp

powdered sugar

(31g, $0.14)

1-2½

tsp

water

($0.01)
Instructions
For the cookie dough:
Place oven rack in the middle of the oven. Preheat the oven to 350°F/177°C. Line two baking sheets with parchment paper/silicone mat.

In a medium bowl, whisk together all of the dry ingredients: all-purpose flour, baking powder, baking soda, and salt.

In a microwave-safe bowl, add unwrapped stick of butter. Microwave for about 20-30 seconds. It will be mostly melted, but still have some solid chunks.

In a large bowl, whisk the melted-ish butter and both sugars until smooth.

Add egg and vanilla extract to the mixture. Whisk until combined.

Dump in all of the dry ingredients and chocolate chips. Fold together using rubber spatula until no dry flour remains.

Use cookie scoop to gather dough (about 1.5 tablespoons each) and place on lined baking sheet. This will be the bear's head. For the ears, take about 1/2-1 tsp of dough (without any chocolate chips mixed into it), split it in two, and place on top left and right sides of the head. Repeat for other bears, spacing the cookies about 3 inches apart.

Bake for 10-13 minutes, until edges are slightly browned. Remove from oven.

Allow to cool on sheet for at least 5 minutes then transfer to cooling rack.
For the faces:
*If you don't have piping bags, you can use ziploc bags and cut the tip off of one corner.

In a small bowl, add 4 tbsp of powdered sugar. Add 1/4 tsp of water at a time, mixing until you get a pipeable consistency. You may need up to 2 1/2 tsp of water. If it's too liquidy, add more powdered sugar. If it's too stiff, add more water.

Pour half of the mixture into a piping bag. This will be the white color for the snout and ears.

To the remaining icing, add a drop of pink food coloring. Mix until combined, then add half of this mixture to another piping bag. This will be the blush.

To the rest of the icing, add black food coloring. Mix until combined, then transfer all of the icing to another piping bag. This will be for the nose and eyes.

Snip the very ends of the piping bags. First, pipe the snouts and ears using the white icing. Once the snouts are semi-dry, pipe the noses and eyes using the black icing. Finish with the pink icing for the blush.
Notes
Store cookies at room temp in airtight container for up to 5 days.