Bear-Shaped Chocolate Mochiko Muffins (Gluten-Free)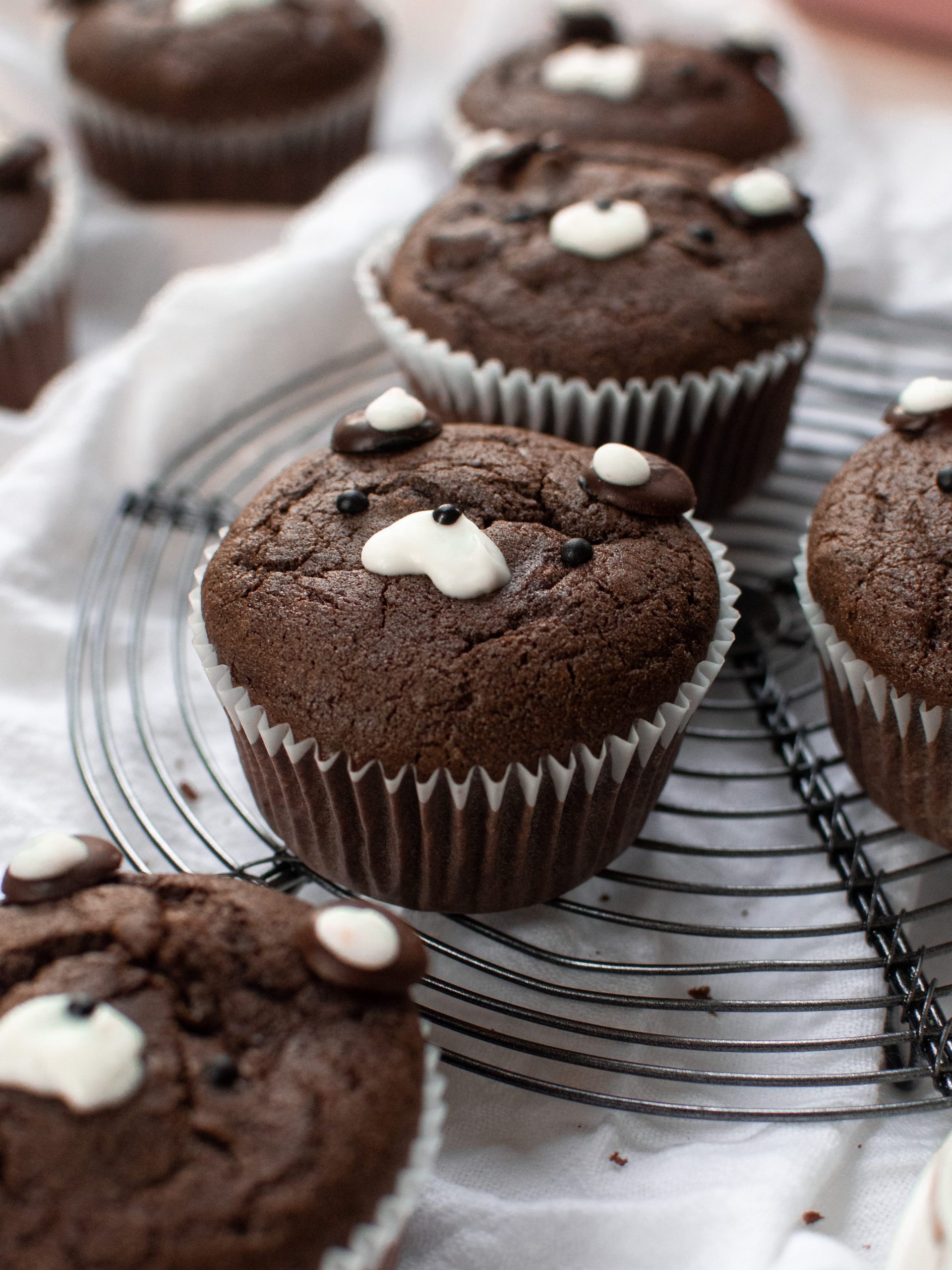 Estimated cost: $4.87 per 10 muffins, $0.49 per muffin
About these bear muffins
It's been almost an entire year since I made anything with mochiko flour! In 2021, I was on a kick of making different mochi donuts, which you can find listed here. I made flavors, such as matcha, Oreo, ube coconut, and my favorite—cinnamon sugar. So now I'm back with these bear-shaped chocolate mochiko muffins! They're gluten-free since they're with sweet rice flour instead of all-purpose flour (APF), and can also be easily made dairy-free +vegan. Just swap in vegan butter, vegan egg replacement, alternative milk, and vegan chocolate!
These bear muffins are made with both regular cocoa powder and black cocoa powder for the darker color and deeper flavor. But if you don't have black cocoa powder on hand, please feel free to sub in more regular cocoa powder! The batter also has chocolate chips and espresso powder in it, giving the muffins the perfect amount of chocolate flavor. And in terms of texture, they're a bit chewy and springy when comparing them to muffins/cupcakes made with APF.
I plan on making more mochiko bakes because I have a LOT of mochiko flour stocked up in my pantry. I'd love to make moochi cow muffins sometime soon because I think they'd be really cute. If you have any other ideas, please send them my way!
What is Mochiko?
Mochiko is a popular ingredient used in Japan. It is referred to as sweet rice flour or glutinous rice flour, but is naturally gluten-free despite its name. It is widely used to make rice cakes known as mochi, but mochiko can be added to brownies, cookies, waffles, and more! Adding mochiko to a recipe will make the food chewier and slightly denser. You can find mochiko in the baking aisle at some Asian markets or even order it online.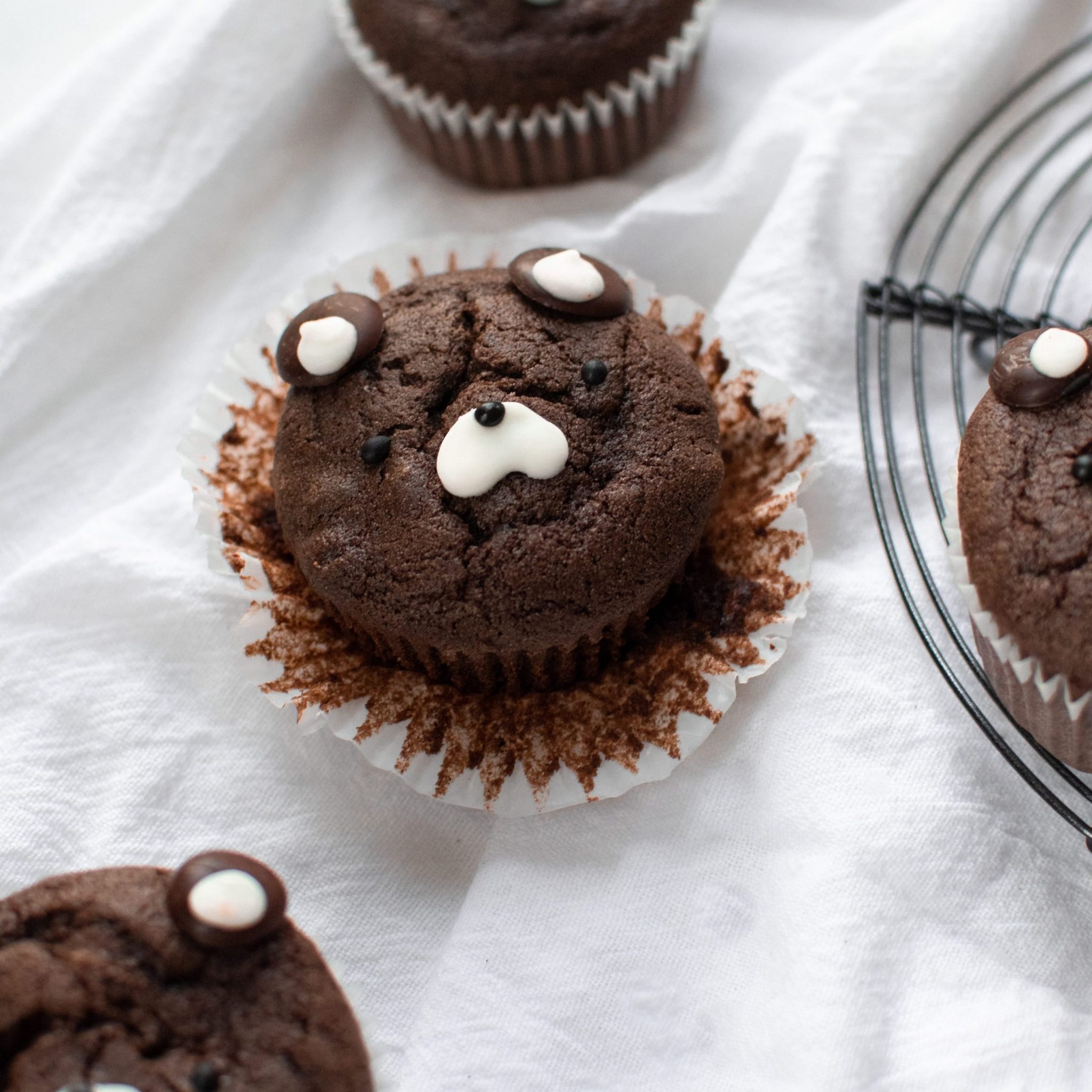 How to make the bear faces
After the muffins were done in the oven and fully cooled, I melted milk/white chocolate and thawed my frozen stock of black vegan royal icing. I ALWAYS have vegan royal icing in my freezer since it lasts for a long time and can be used for almost all of my decorated bakes. If you don't want to make the royal icing, feel free to swap in melted dark/milk chocolate, or chocolate dyed black with oil-based food coloring.
For the ears, I used melted milk chocolate to pipe pairs of brown circles onto wax paper. Once they dried, I used melted white chocolate for the inner parts of the ears. While waiting the ears to fully dry, I piped on the bears' snouts right onto each muffin using the white chocolate.
After the snouts were dried, I used black icing for the nose and then the eyes. Lastly, once the ears were fully dried, I used melted chocolate as glue to stick the ears onto the tops of each muffin.
And there you have it! Kawaii mochiko muffins.
I really hope you enjoy this recipe. If you make these bear-shaped chocolate mochiko muffins, I'd love to see them. You can tag me at #bitesbybianca / @bitesbybianca on Instagram. Enjoy! 🙂
Bear-Shaped Chocolate Mochiko Muffins (Gluten-Free)
Adorable bear muffins made with mochiko (glutinous sweet rice flour)! They're made in one bowl and are super easy and fast to make.
Ingredients
For the mochiko muffins:
1

c

mochiko sweet rice flour, see notes

(160g, $1.23)

½

c

granulated sugar

(100g, $0.19)

¼

c

cocoa powder, sifted

(25g, $0.44)

¼

c

black cocoa powder, or sub regular cocoa powder, sifted

(25g, $0.44)

1

tsp

espresso powder

($0.05)

1

tsp

baking powder

($0.07)

¼

tsp

salt

($0.01)

½

c

chocolate chips

(85g, $0.87)

1 ¼

c

milk, see notes

(300 mL, $0.62)

2

eggs, see notes

($0.35)

4

tbsp

butter, melted and cooled

(56g, $0.62)

1

tsp

vanilla

($0.42)
For the decorations:
melted white and dark/milk chocolate

black royal icing (see notes) OR chocolate dyed black with oil-based food coloring
Instructions
For the donuts:
Preheat the oven to 350°F/177°C. Line a cupcake tray with paper liners.

In a medium bowl, whisk together together the eggs and sugar until smooth. Add the butter and vanilla, then mix until uniform.

While whisking, stream in the milk and continue mixing until combined.

Add in the dries: mochiko flour, cocoa powders, espresso powder, baking powder, salt, and chocolate chips. Fold batter with a rubber spatula or wooden spoon just until there are no dry spots remaining.

Use a muffin/ice cream scoop or spoon to add batter to each cupcake liner, with each liner being about 3/4 full.

Bake for 20-30 minutes. The mochiko muffins will be done if you stick a cake tester in the middle and it comes out clean. Additionally, the top of the muffins should spring back when gently poked with your finger.

Cool mochiko muffins in the pan for about 5 minutes, then transfer them onto a wire rack and let them cool completely before decorating
For the bear decorations:
Set up your piping bags to add your melted chocolates into them. Alternatively, you can use ziploc bags, fill them, and cut the tip to create a small hole.

For the ears, use melted dark/milk chocolate to pipe small circles onto wax paper. Once that hardens, use white chocolate to add the inner ear.

After the ears harden, use melted chocolate as your glue and stick on ears on top of each muffin.

Use melted white chocolate and pipe on the snout onto the muffin.

Add a small dot of black-colored chocolate or black royal icing to create the nose. Use the same color for the eyes.

And now you're done! Enjoy!
Notes
To store these muffins, place them in an airtight container at room temperature for up to 3 days.
I used this recipe for the vegan royal icing and I skipped the optional vegetable glycerin. It actually makes a lot of royal icing, so I already had a bunch of it stored in my freezer! It only takes about 10 minutes for it to thaw.
Mochiko sweet rice flour: Make sure you are using mochiko, which is different than regular rice flour. 
To make these dairy-free: Substitute the butter for vegan butter and use alternative milk. Additionally, use vegan chocolates.
To make these egg-free: I've used JustEgg as a substitute and it worked out great!