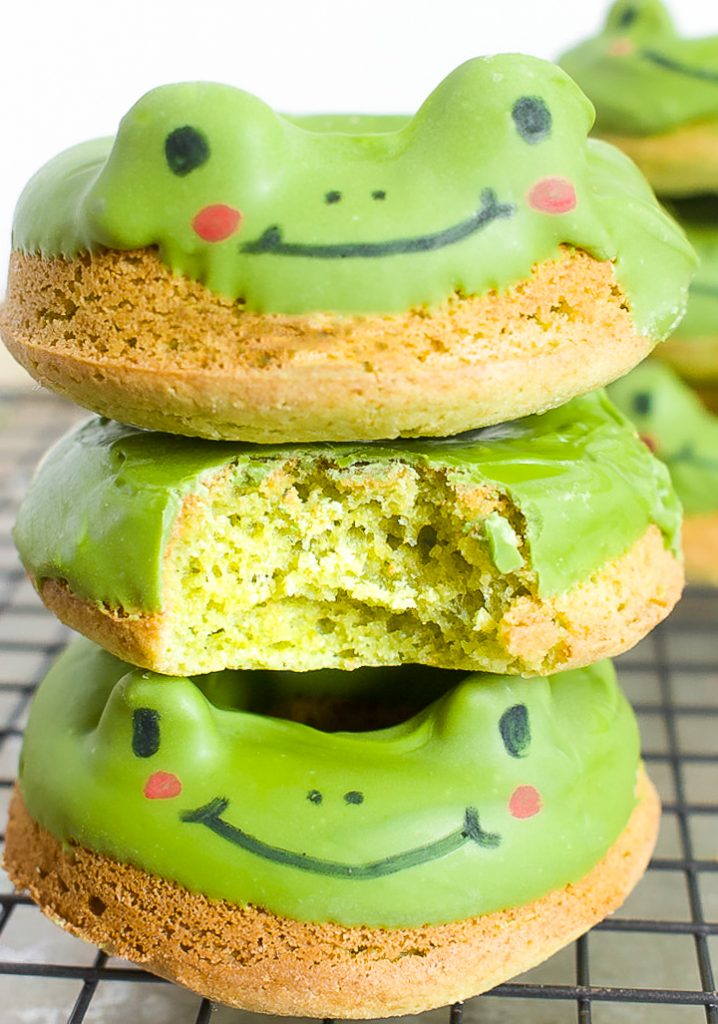 Estimated cost: $4.98 per 1/2 dozen, $0.83 per donut
After seeing Eric's matcha frog donuts, I wanted to try making a mochi version!
These frog donuts have great flavor—the bitterness of the matcha balances well with the sweetness of the sugars and white chocolate. They're are made with mochiko flour, so they're chewy, soft, and gluten-free. I also made them dairy-free because I used vegan butter and white chocolate. If you don't have any dietary restrictions, please feel free to use regular butter and chocolate!
Shaping the Donuts
After baking the frog matcha mochi donuts and letting them cool, you can start decorating them.
To make the eyes, I cut holes into the tops of the donuts, dipped cut pecans in melted matcha white chocolate, and placed the pecans into the cuts. After letting them set, I dunked the tops of each donut into the melted matcha white chocolate. Once they fully dried, I used edible marker pens to draw on the face!
If you make these donuts, I'd love to see! You can tag me at #bitesbybianca / @bitesbybianca on Instagram. Enjoy! 🙂
Check out my other mochi donut recipes: ube coconut mochi donuts, Oreo mochi donuts.
Small Batch Baked Matcha Mochi Frog Donuts
Ingredients
For the donuts:
1

c

mochiko sweet rice flour, see notes

(160g, $1.23)

1

tsp

matcha powder

($0.16)

½

c

granulated sugar

(100g, $0.19)

1

tsp

baking powder

($0.07)

¼

tsp

salt

($0.01)

½

c

milk, see notes

(118 mL, $0.09)

1

egg

($0.17)

2

tbsp

butter, melted and cooled, see notes

(28g, $0.31)

1

tsp

vanilla

($0.42)
For the topping:
150

g

white chocolate

($1.54)

1 – 2

tbsp

matcha

($0.53)

6

pecans chopped in half (12 pecan halves)

($0.26)

edible food marker
Instructions
For the donuts:
Preheat the oven to 350°F/177°C.

Dry ingredients

In a medium bowl, whisk together the mochiko flour, matcha powder, granulated sugar, baking powder, and salt.

Wet ingredients

In another medium bowl, whisk together the milk, egg, melted butter, and vanilla extract until combined.

Combine the wet and dry ingredients. Mix until combined.

Transfer the donut batter into a piping bag fitted with a large round tip. If you do not have a piping bag, you can use a spoon to scoop the batter.

Grease your donut pan using cooking spray or butter. Pipe or spoon the batter into each cavity, filling it all the way to the top. Once each cavity is filled, you can use the back of a spoon or knife to smooth the tops.

Note: Depending on the size of your donut pan, you may have a small amount of leftover batter. You can make an extra donut or a muffin!

Bake for 30-35 minutes. Cool donuts in the pan for about 5 minutes, then transfer them onto a wire rack and let them cool completely before adding the topping.
For the topping:
Cut two slits into the top of each donut so that half a pecan can fit into each hole.

In a medium bowl, melt white chocolate by microwaving it at 30-second intervals, mixing after each interval. Once melted, mix in matcha powder.

Dip the bottom of the chopped pecan into the melted matcha white chocolate and stick it into the cut part of the donut. Allow the white chocolate to set.

Dunk the tops of the donuts into the melted matcha white chocolate. Once the chocolate sets, draw on the eyes, nose, mouth, and blush with edible food markers.
Notes
To store these donuts, place them in an airtight container at room temperature for up to 3 days. However, they're better eaten the day that they're made. This is because as time passes, the donuts become softer and slightly soggier. If you want them to last for more than one day, I recommend storing them without the matcha white chocolate topping. You can rebake them at 350°F/177°C for 5-10 minutes to firm them back up, then let them cool, decorate them with the white chocolate, pecans, and edible food markers, and serve!
Mochiko sweet rice flour: Make sure you are using mochiko, which is different than regular rice flour. 
To make this dairy-free: Substitute the butter for vegan butter, milk for any alternative milk.