StrawBEARy Sugar Cookies (Easy Strawberry Bear Cookies!)
About these strawberry bear cookies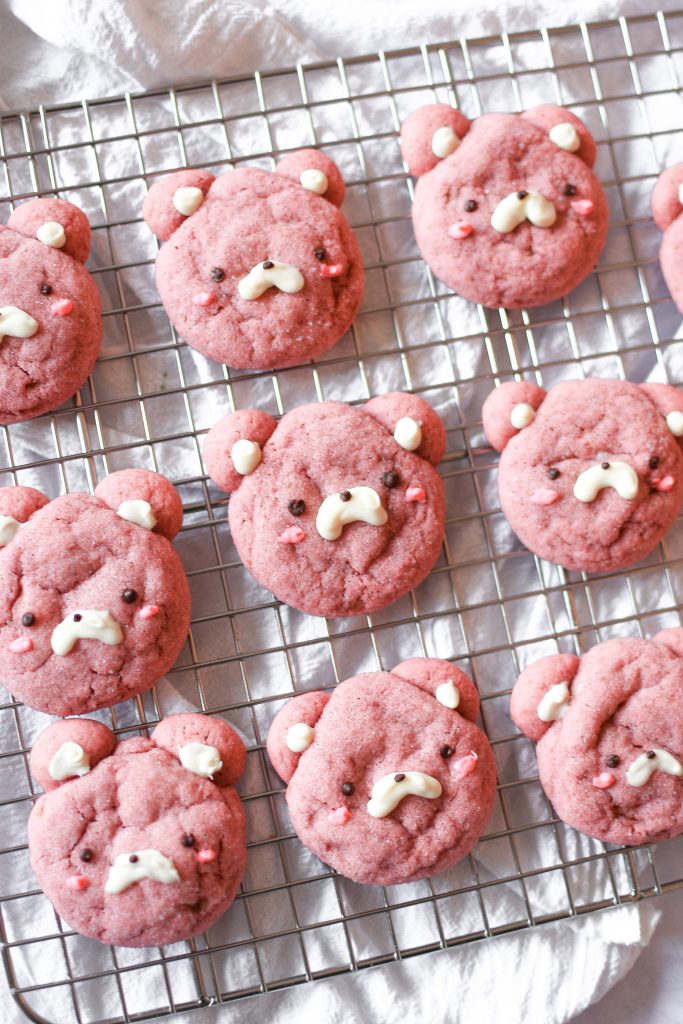 FAQ
Can you make these vegan?
Can I skip the strawberry powder?
Tips for baking and decorating
Properly measure the flour
I always like to measure my ingredients with a kitchen scale for consistent, accurate results. But if you're measuring with cups, make sure you follow this tip: gently spoon in the flour into the cup until it's full, then scrape the excess off using the back of a knife or offset spatula.
If you scoop the cup directly into the flour bag or container, the flour may get compacted, and you will be adding in more flour than necessary. On the other hand, if your flour is clumpy, you could be adding in chunks of flour into the cup with gaps in between them, possibly adding less flour than required. These instances can cause tougher or even really flat cookies, since the proper ratio of dry:wet ingredients isn't met.
So, for best results, use a scale. If you don't have one, gently spoon and level the flour into your measuring cup!
Coloring the dough
Shaping the dough
Decorating with melted chocolate
Storing the cookies
StrawBEARy Sugar Cookies
Adorable, not too sweet, soft, & chewy pink strawberry sugar cookies decorated with melted chocolate. The cookie dough is made with freeze dried strawberry powder, which takes plain sugar cookies to the next level!
Ingredients
Dry ingredients:
1 ½

cup

all-purpose flour

(180g)

3

tbsp

freeze dried strawberry powder

(18g)

½

tsp

baking soda

½

tsp

baking powder

½

tsp

salt

food coloring

(pink)
Wet ingredients:
½

cup

unsalted butter, melted and cooled

(1 stick butter/8 tbsp)

¼

cup

granulated sugar

(50g)

¼

cup

light or dark brown sugar

(50g)

1

tsp

vanilla extract

1

egg
For rolling:
2

tbsp

granulated sugar

(25g)
Decoration for face:
1

tbsp

melted milk or dark chocolate

3

tbsp

melted white chocolate

oil-based food coloring, see steps

(pink/red)
Instructions
For the cookie dough:
In a medium bowl, whisk together all of the dry ingredients: all-purpose flour, freeze dried strawberry powder, baking powder baking soda, and salt.

In a stand mixer using the paddle attachment (can alternatively use hand mixer or whisk), mix the butter and sugars on medium speed until combined. Scrape bottom of bowl. Add vanilla and egg and mix again. Mix in pink food coloring.

Dump in all of the dry ingredients and mix until combined. Add more pink food coloring as needed.

Cover the dough and let it rest in the fridge for 20-30 minutes. This will let the flour hydrate and let the butter firm up again, yielding chewier cookies. The dough will also be easier to work with. 🙂

Preheat oven to 325°F/163°C and line two baking trays with parchment paper or silicone mats.

In a small bowl, add granulated sugar for rolling the dough.

Use small cookie dough scoop to gather dough (about 1 ½ tablespoon each). Shape into a ball and roll in granulated sugar. Place onto lined baking tray. Repeat for about 15 more cookies, making sure you have some left over for the ears. Place cookies about 3 inches apart.

For the ears, take about 1 tsp of dough, and split it into two equally sized pieces. Roll into balls and place on the tops of the bears' heads.

Bake for 9-11 minutes. For soft cookies, bake them until the edges are set and firm. For chewier ones, bake for 1-3 more minutes.

Let cool on pan for about 5-10 minutes, then transfer cookies to wire rack. Let cool completely.
For the bear faces:
You can a piping bag, toothpick, or cookie scribe to add on the details. I used a toothpick.

Use melted white chocolate to draw on the snouts and ears. Dye the leftover chocolate pink or red for the blush.

If you don't have oil-based food coloring, then the chocolate will seize/become lumpy. To counter this, stir in a tsp of neutral oil (canola, vegetable) at a time, until it becomes smooth again.

Use melted milk or dark chocolate for the eyes and noses.
Notes
Store cookies in an airtight container at room temperature for up to a week.
To make it vegan, swap in a high quality vegan butter and vegan chocolate (suggestions listed in this blog post). Omit the egg. Follow the recipe accordingly up until you add in the dries. If the dough seems crumbly, add in a tbsp of alternative milk (2-4 tbsp total) at a time until the dough comes together. It should be thick, but scoopable. In addition, you can use a vegan chocolate brand like Pascha Chocolate. OR, you can try out my easy icing recipe, which is found in my teddy bear cookie recipe.