Cat-Shaped Black Cocoa Cookies (Vegan)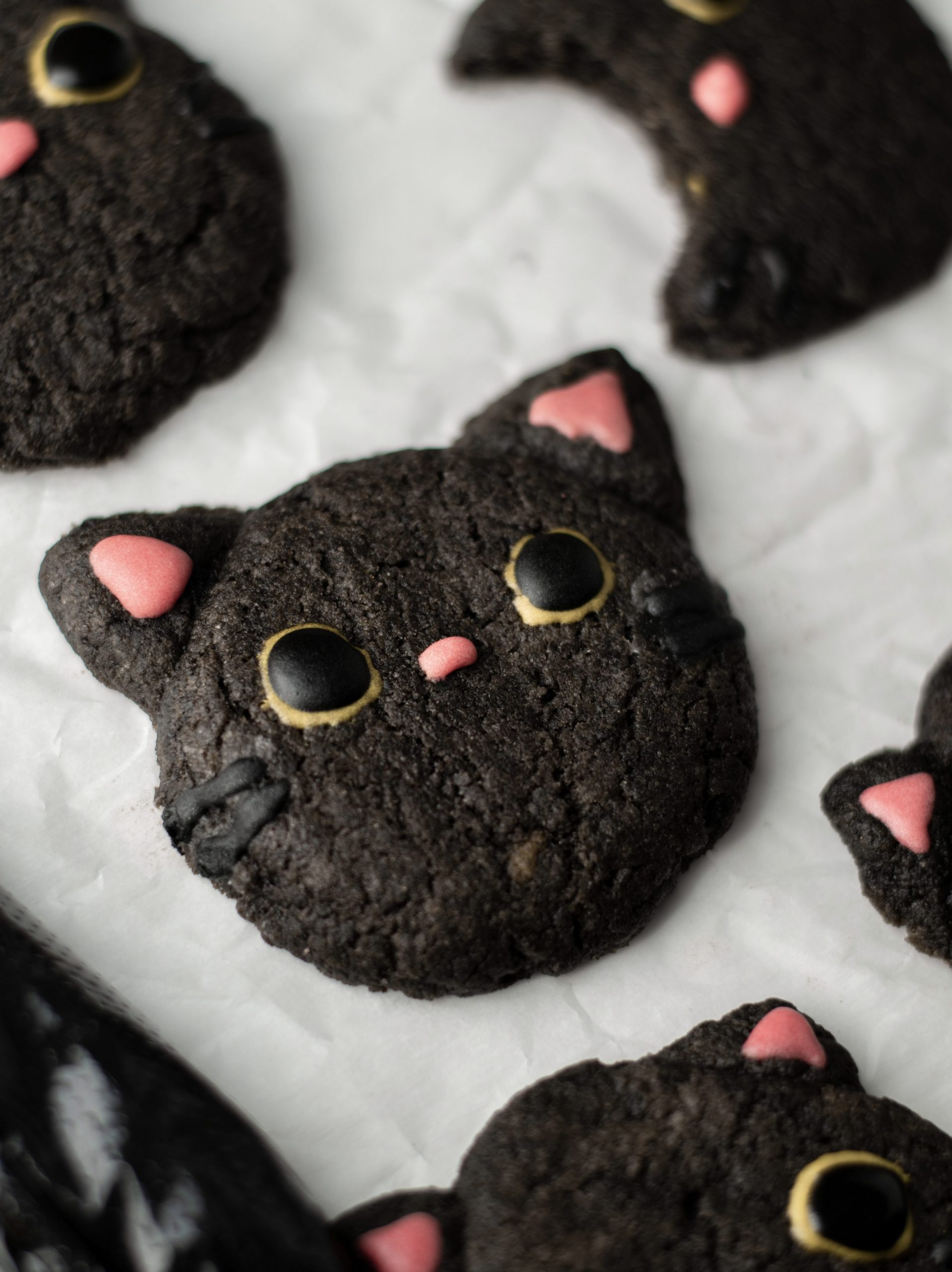 Estimated cost: $2.96 per 15 cookies, $0.20 per cookie
Hi friends! This is the fifth animal in my animal cookie series so far, and these ones are pretty adorable. Check out my other animal cookie recipes here: Soft, Less Sweet Ube Sugar Cookie Bears (Dairy-Free!), Pig-Shaped Snickerdoodles (Vegan), Frog-Shaped Matcha Sugar Cookies (Vegan).
I've been meaning to use the black cocoa in my cabinet for a while, and thought it would be perfect for these black cocoa cat-shaped cookies. The recipe is pretty much based off my frog-shaped matcha sugar cookies, except the matcha is swapped out for black and regular cocoa powder. These cookies have crisp edges, a slight chew, the bitterness of the cocoa is balanced out by the sugar, but are not overly sweet. I made them vegan, but feel free to swap in regular butter, milk, and royal icing if you don't have any dietary restrictions.
Shaping the dough into black cats
To make the head, roll 1 & 1/2 tablespoon of dough into a ball and place it onto a lined baking tray. Slightly press down on the ball with the palm of your hand or bottom of a cup to flatten them. For each of the ears, roll 1/4 teaspoon of dough into a ball and cut two sides of the ball to form a pointed end. Place the dough on the upper left or right side of the head. As they bake, the ears will connect to the head and you will get these cute cat-shaped black cocoa cookies! Once they are cooled, you can decorate them with vegan royal icing.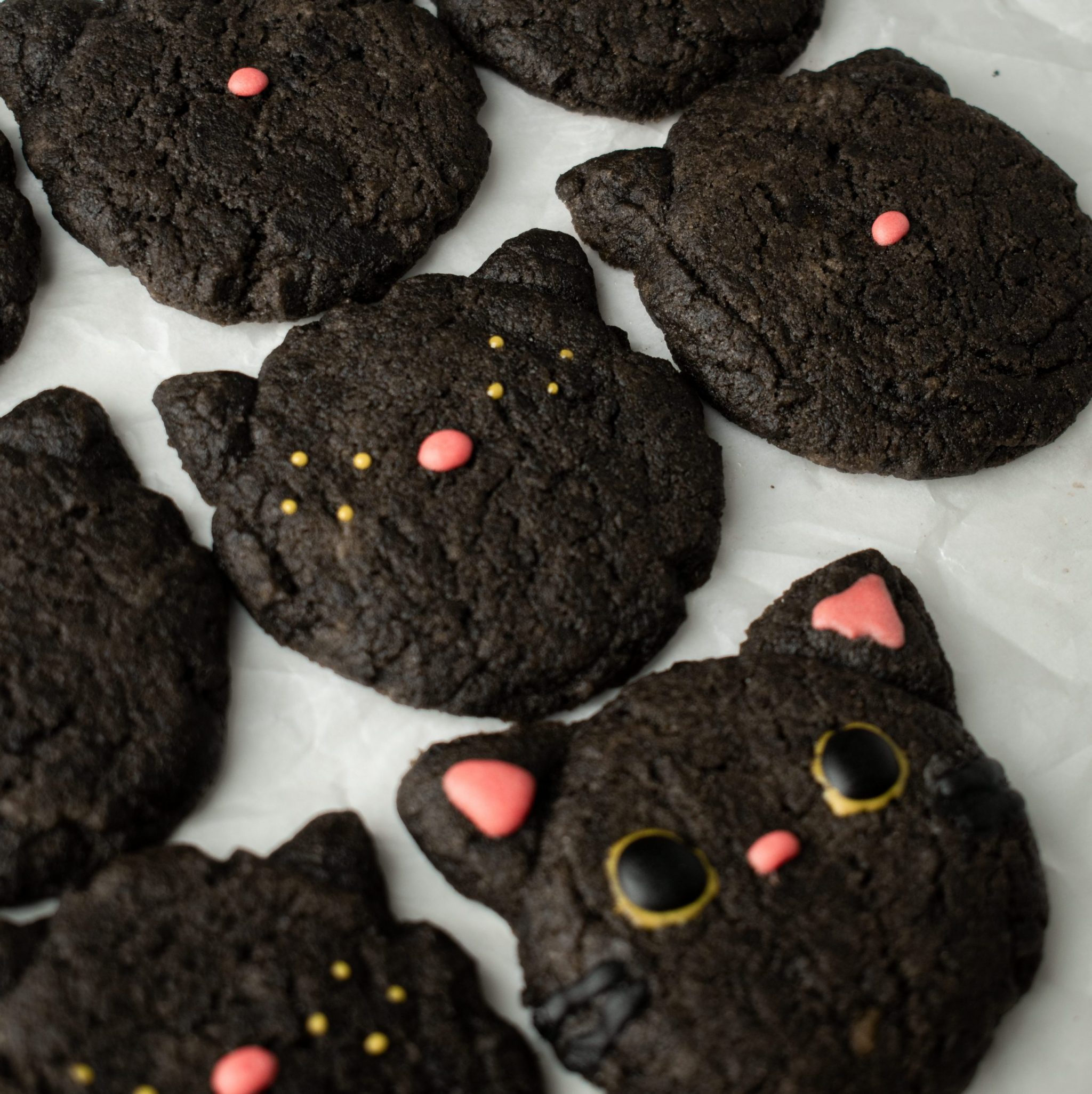 Tips for decorating
If I'm being honest, the first few cat cookies I made were atrocious. I really wish I took photos of them so you could see how scary they looked. It was quite the learning process since I'm not a pro at decorating cookies with royal icing. So, I want you to learn from my mistakes! Before I list the order you should go in, make sure you have a toothpick or cookie scribe so that you can help move the icing in the direction you want as you decorate.
Start with the eyes: Begin decorating by outlining the eyes using the yellow royal icing. To make it easier, you can map out dots like I did in the image above, so that you can connect the dots into the shape you want. After outlining and connecting the dots, do the same for the rest of the cats. Once that is done, the outline should have dried a little, so now you can flood the inner part of the circle with the remaining yellow icing.
Work on the ears and nose: While the yellow eyes are drying, add pink icing to the inner ears and pipe tiny noses to each cat.
Whiskers: Add 2-3 whiskers on the left side and right side of each cat.
Finish with the pupils: By now, the yellow should be somewhat dry. You can then go in and pipe large black pupils on top of the yellow, as imaged above. This step is where I found myself using my cookie scribe the most, just so I could leave a thin yellow ring around the pupils.
I really hope you enjoy this recipe. If you make these black cat cookies, I'd love to see them. You can tag me at #bitesbybianca / @bitesbybianca on Instagram. Enjoy! 🙂
Black Cocoa Cat-Shaped Cookies (Vegan)
Adorable, vegan, black cocoa cat cookies with crisp edges, a slight chew, and subtle bitterness balanced out by the sugar. They're decorated using vegan royal icing with my favorite recipe linked down in the notes. Feel free to swap in regular butter, milk, and royal icing if there are no dietary dairy restrictions.
Ingredients
Dry ingredients:
1 ¼

cup

all-purpose flour

(150g, $0.39)

1

tbsp

cocoa powder

($0.12)

2

tbsp

black cocoa powder

($0.24)

½

tsp

baking soda

($0.01)

¼

tsp

salt

($0.01)
Wet ingredients:
½

cup

dairy-free unsalted butter, melted and cooled

(1 stick butter/8 tbsp, $1.25)

¼

cup

granulated sugar

(50g, $0.10)

¼

cup

light or dark brown sugar

(50g, $0.27)

1

tsp

vanilla extract

($0.42)

2-4

tbsp

dairy-free milk

($0.15)
Decoration for face:
vegan royal icing, see recipe notes below. or use melted vegan milk/dark and white chocolate (dye the latter pink or red with oil-based food coloring)
Instructions
In a medium bowl, whisk together all of the dry ingredients: all-purpose flour, cocoa powders, baking soda, and salt.

In a stand mixer using the paddle attachment (can alternatively use hand mixer or whisk), mix the butter and sugars on medium speed until combined. Scrape bottom of bowl. Add vanilla and mix again.

Dump in all of the dry ingredients and mix until combined. If the dough is crumbly, slowly add 2-4 tbsp of dairy-free milk until it comes together. The finished dough should be thick.

Preheat oven to 350°F/177°C and line two baking trays with parchment paper or silicone mats.

Use small cookie dough scoop to gather dough (about 1 ½ tablespoon each). Shape dough into ball, then place onto lined baking tray. Flatten with palm of your hand or bottom of a cup. This will be the cat's head.

For the ears, take ½ tsp of dough and shape into a triangle with your fingers Place the ear on the upper left or right side of the head and repeat for the other ear. Place cats about 3-4 inches apart. They will not spread much while baking.

Bake for 10-13 minutes. Cookies should look slightly puffy and soft in the center with set edges. They will not brown because of their black color.

Be careful to not over bake so they don't get crispy! They will continue cooking when cooling on the pan.

Let cool on pan for about 5-10 minutes, then transfer to wire rack. Let cool completely.

To add the faces, use pink, yellow, and black colored vegan royal icing (recipe in notes below). Place into small piping bags and cut a small tip for each one. Have a toothpick or cookie scribe on hand to help you move the icing in the direction you want as you decorate the cookies.

First, start with the eyes using the yellow royal icing: outline the eyes by piping 4 dots that you can connect into a circle. After connecting the circle for each eye, move onto the next cat. This allows the yellow outlines to somewhat dry, allowing you to flood the middle with the remaining yellow icing.

After piping the eye outlines for each cat, flood the circles with the yellow icing. While that dries, use the pink royal icing to add the noses and inner ears for each cat.

Take black icing and pipe whiskers on the left and right sides of the cat's face. Finally, using the black icing, add the pupils to the cat's eyes within the yellow circle. Leave a small perimeter of the yellow around the pupils as pictured in my photos.
Notes
I used this recipe for the vegan royal icing and I skipped the optional vegetable glycerin. It actually makes a lot of royal icing, so I already had a bunch of it stored in my freezer! It only takes about 10 minutes for it to thaw.
Store cookies in an airtight container at room temperature for up to a week.