How to Make 3D Sourdough Art
Looking to spruce up your sourdough? Try this 3D sourdough art technique where you mix flour, water, & salt, and then color it and create any design you want!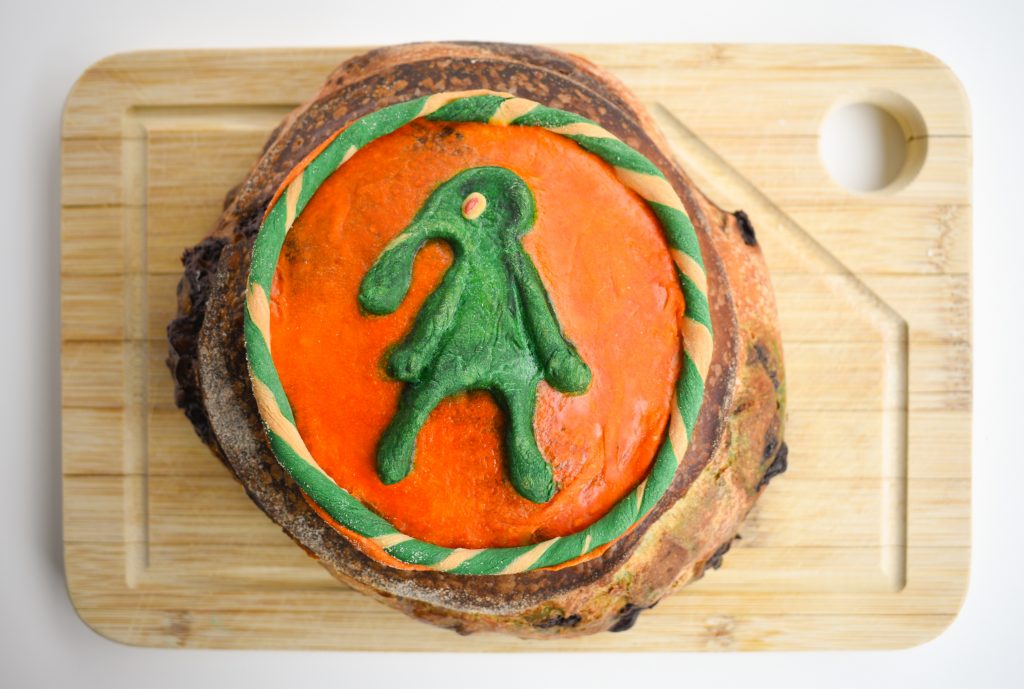 I always look forward to making bread because not only do I get to eat it, I get to try out different scoring patterns, paint different designs, and now, my latest obsession, make 3D sourdough art
I first saw this technique by Penny Che, who shared pictures of her beautiful loaves with 3D flowers on them. She mixed flour and water until the dough became clay-like, then colored it using different powders. After seeing her posts, I knew I wanted to apply this technique to my own bread. Naturally, I decided to make one of my first loaves Spongebob-themed, hence the "Bold and Brash" art.
Making the 3D Dough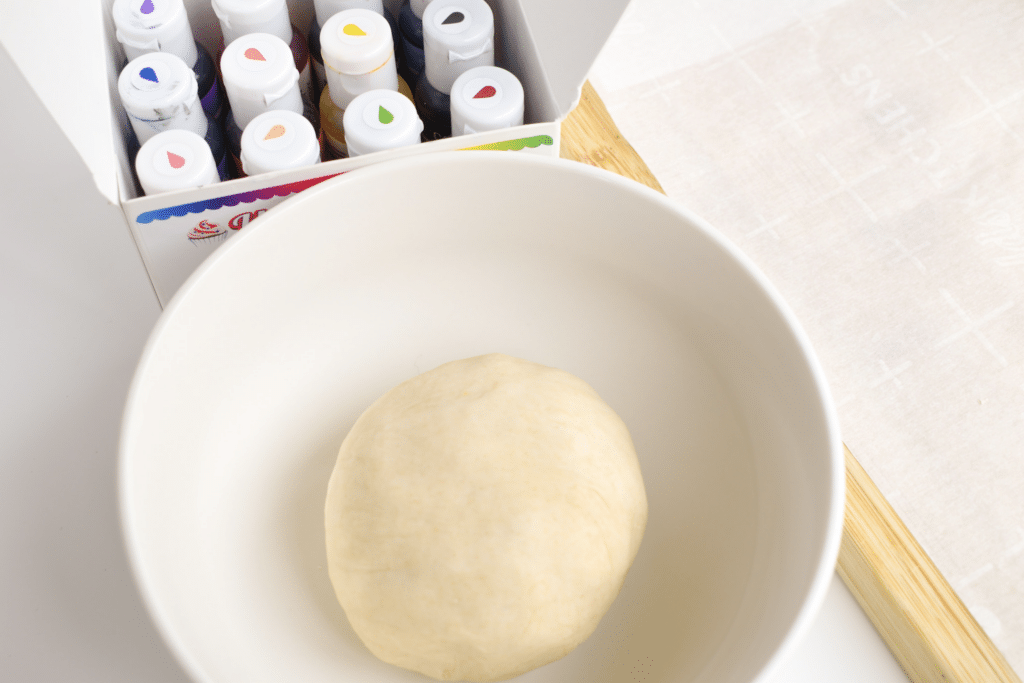 To make the 3D dough, I kneaded together 100g all-purpose flour, 60g-70g water (added enough to get the consistency I wanted), and 2g salt. This made plenty of dough, and since my design was simple, I most likely could have gotten away with making half the amount. I then arbitrarily split the dough into the number of colors I wanted and added gel food coloring. (Note: alternatively, you can use powders to color the dough, such as turmeric, butterfly pea, cocoa, etc.)
I kneaded each dough ball to incorporate the food coloring, which was quite messy—my hands were blue and orange, and required a lot of handwashing. I covered the 3D dough balls with a towel to avoid them from drying out as I made one shape at a time.
Adding the 3D Design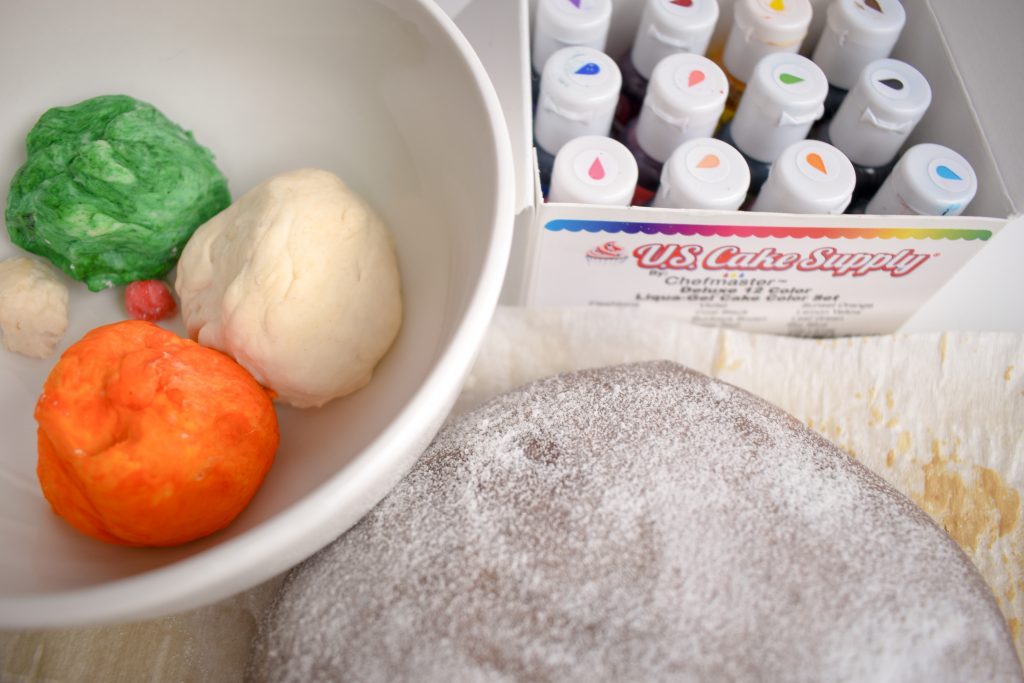 After I had all of my colors ready, I turned my sourdough loaf out onto a parchment-lined board and started preheating the oven. I sprayed the top of my loaf with water so that when I added the 3D dough, it would stick. Every time I added more layers of 3D dough, I made sure to wet the surface beforehand.
For the background, I rolled out the orange dough into a large circle and placed it on top of the loaf. To make Squidward, I rolled out the green dough and cut out his body using a paring knife. For his eye, I used my hands to form the shape. In order to neaten the sides of Squidward's body, I used a small silicone tool (Wilton's silicone scraper) to press along the edges. Lastly, since I had a lot of leftover dough, I made a rope braid with the green and white doughs to create the border.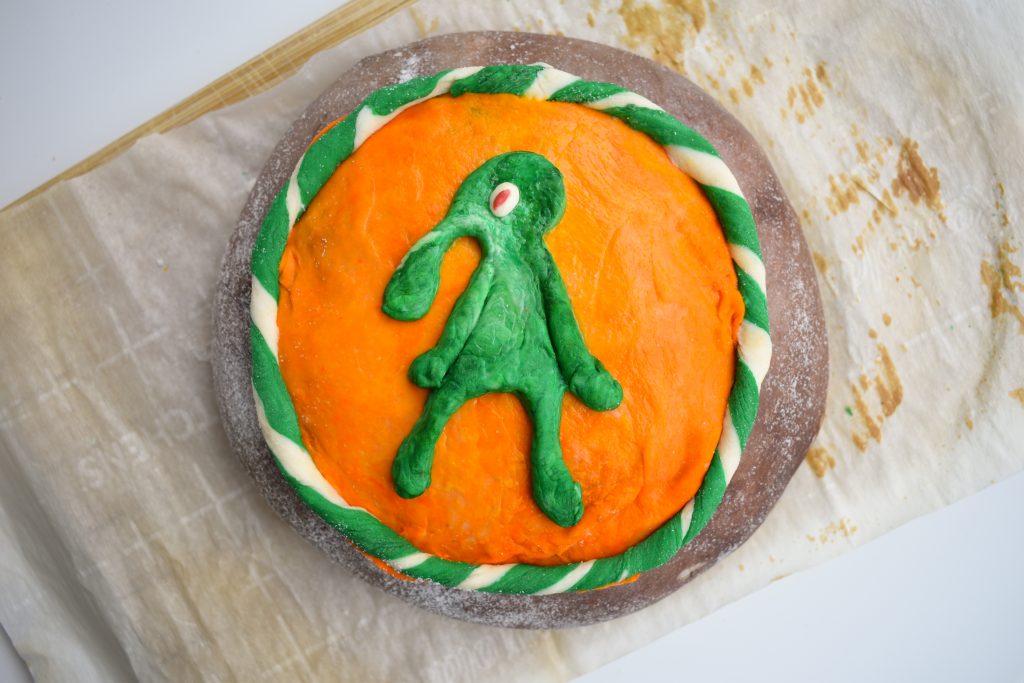 Bake!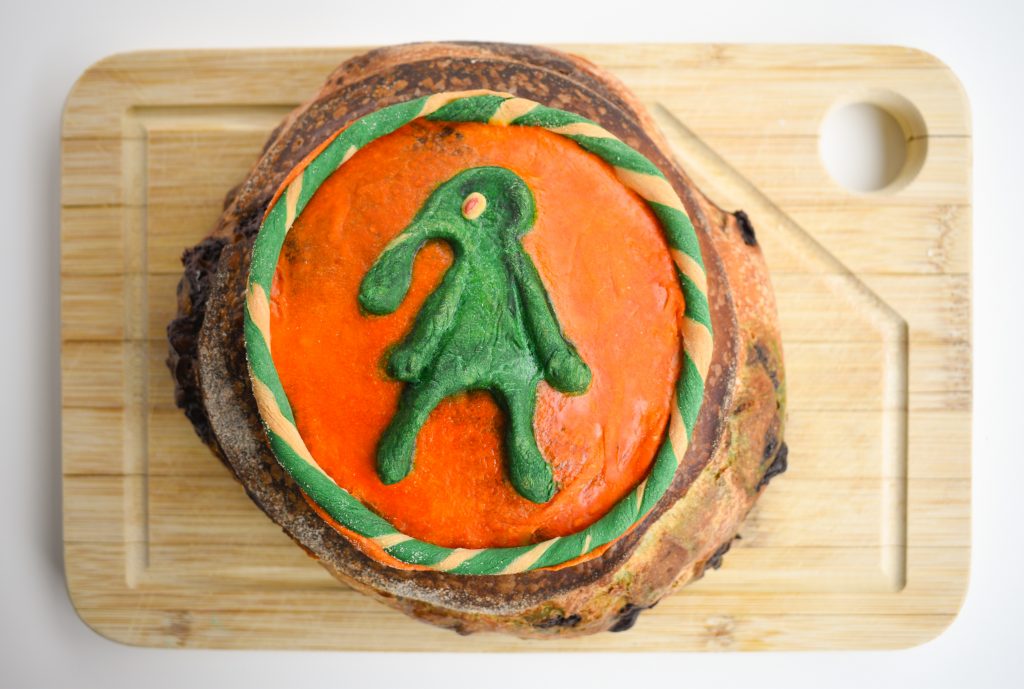 I baked my sourdough in my preheated Dutch oven at 450°F for ~50 minutes with the lid on top the entire time. In my first baking experiment, I found that removing the lid caused the 3D dough to become really discolored. Leaving the lid on still resulted in a great crust—it was crunchy and had plenty of blisters on the surface. If you'd still like to remove the lid, or if you bake on a baking steel/stone, I highly recommend covering the 3D art with aluminum foil the entire time.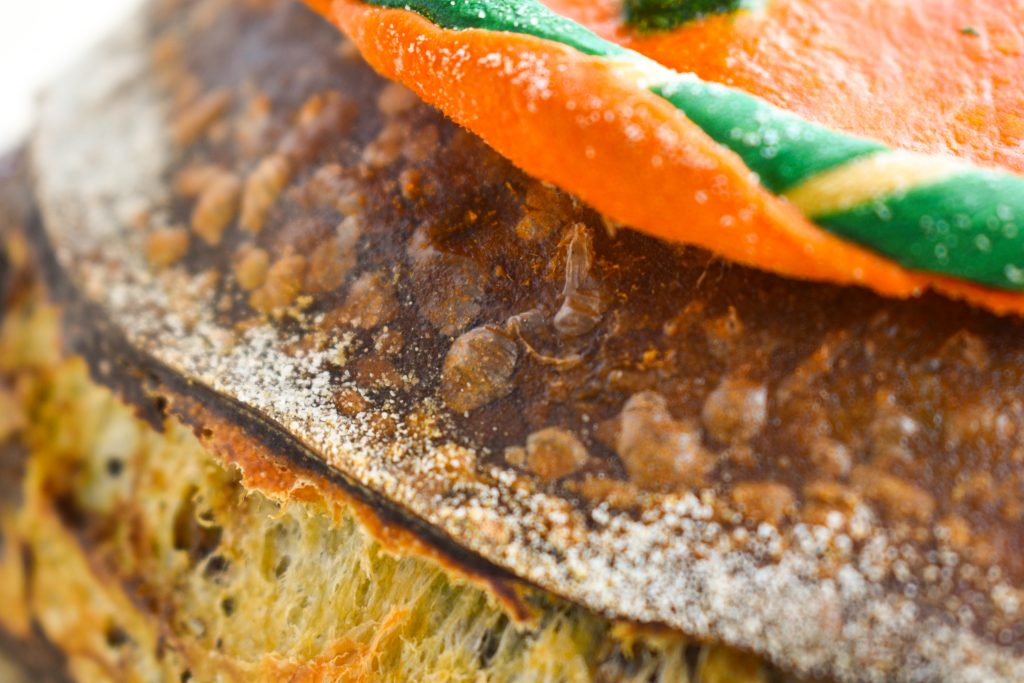 I really enjoyed making this loaf. Seeing the crumb was extremely satisfying! It was a dark chocolate marbled loaf sweetened with maple syrup and filled with fudge M&Ms. I was hoping the M&Ms would make more of a rainbow effect on the bread, but it was hardly noticeable due to the marbling. Also, out of the 3 M&M's bags I had, 90% of them were blue and green!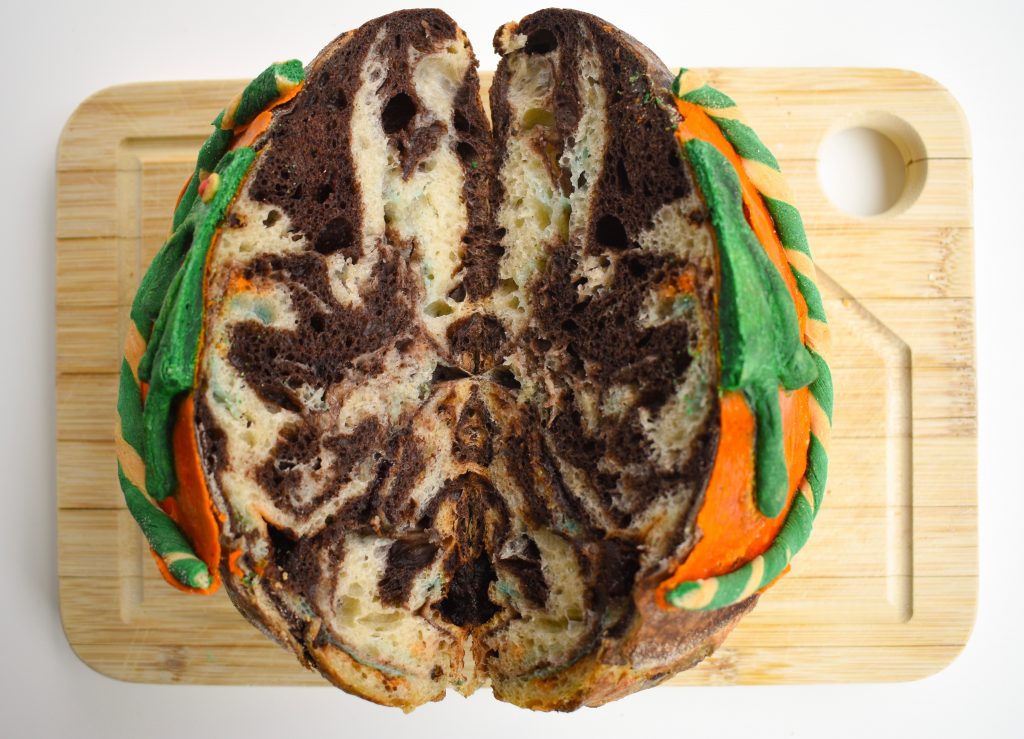 I hope you enjoyed reading this post, and that you also try to make 3D sourdough art. If you do, I'd love to see your creations—tag me at @bitesbybianca / #bitesbybianca! You can also email me at [email protected].
Additional Notes
Here is the first loaf I made using 3D art based on the movie Up.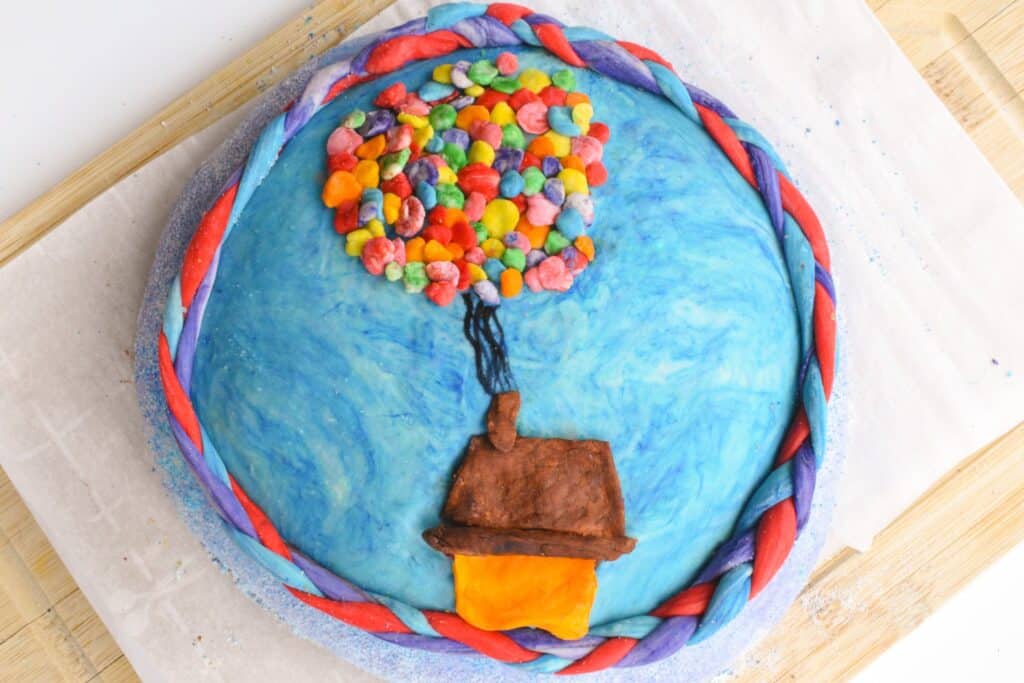 Unfortunately, the 3D dough changed colors after baking. This was because I removed the lid to my Dutch oven, exposing the dough. Check the photo below to see the major color difference!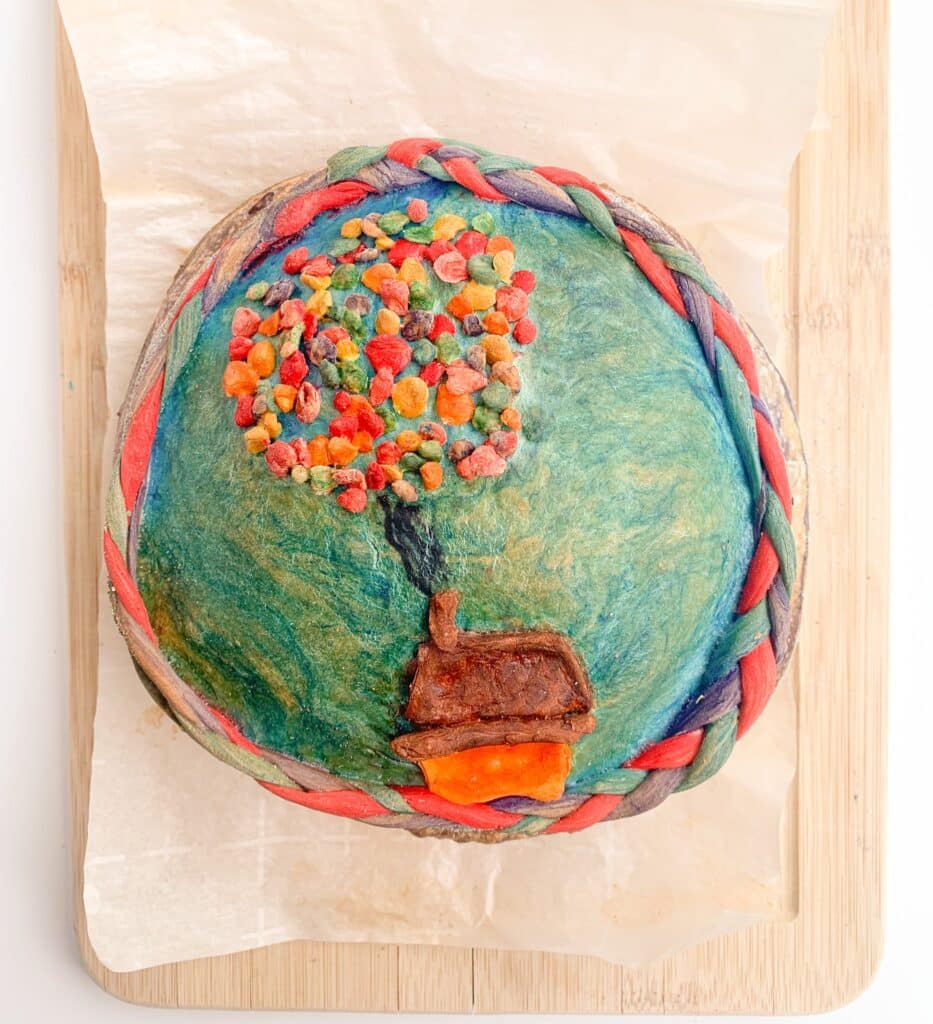 Of course, it was still delicious. It was a regular sourdough loaf, but had purple marbling by coloring half of my dough with butterfly pea.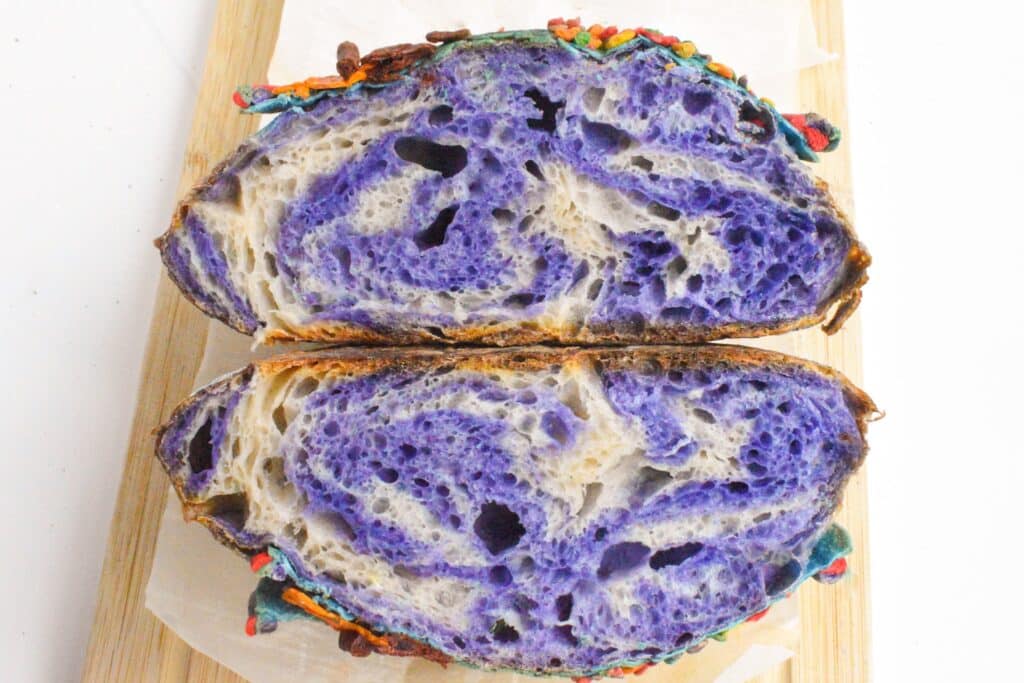 Maybe I'll remake this loaf in the future—who knows!
Update: Here's another loaf I did mid-2022.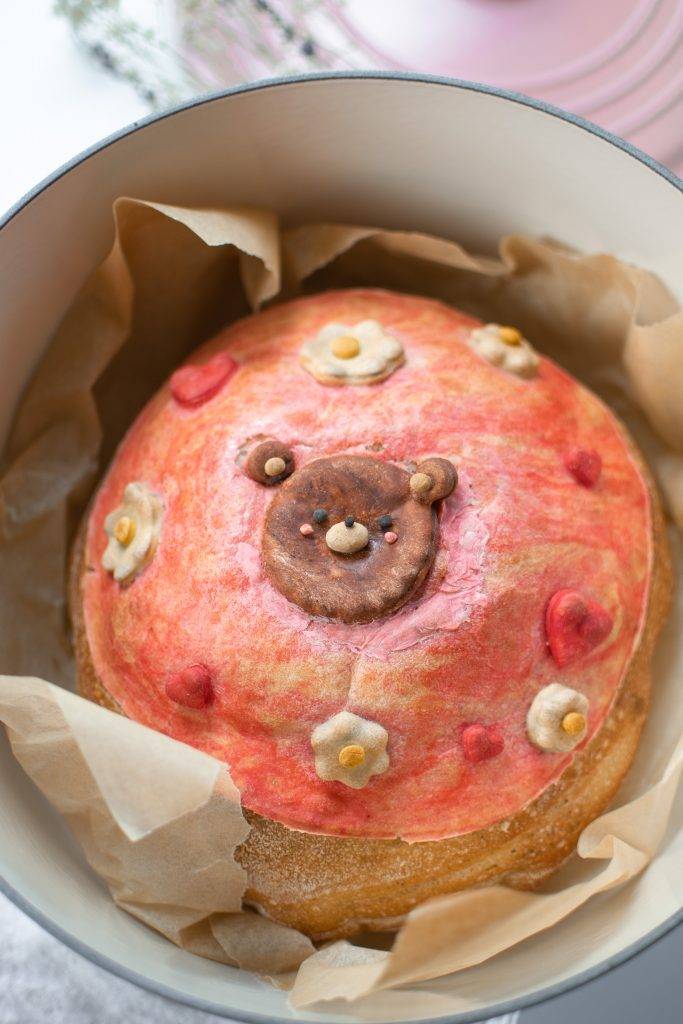 Thanks for reading and I hope you try making 3D sourdough art sometime soon!