This ube chia pudding is full of healthy fats + fiber, which will keep you full in between meals! Top it with shredded coconut, hemp seeds, or whatever toppings you have on hand.
Disclaimer: this post may contain affiliate links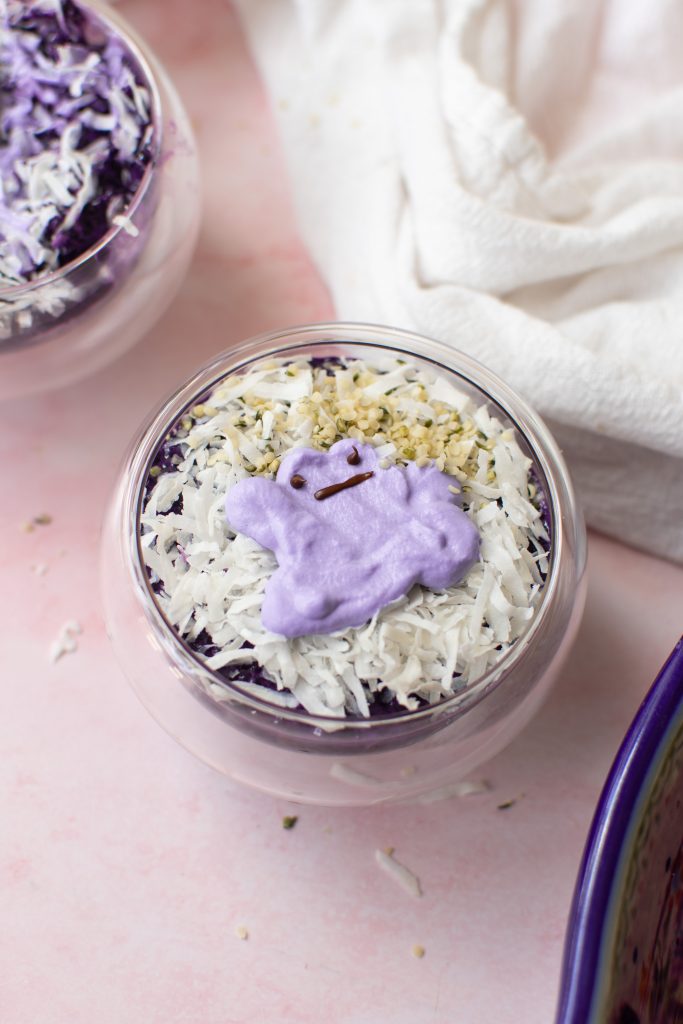 About this ube chia pudding recipe
I've been on a roll with chia pudding recipes and I'm not stopping anytime soon!
This ube pudding is made with chia seeds, coconut milk, maple syrup, ube extract, and ube halaya (aka ube jam). I topped it with hemp seeds, shredded coconut, and whipped cream. And of course, I had to add some type of cute element into this dish. So, I chose ditto from Pokemon!
Flavor wise, I went with the classic ube + coconut pairing, but you can always switch it up yourself! For example, you can add Oreos, fruits, yogurt, etc. Check out the rest of the blog post for different ways to make this recipe your own.
But don't worry, I'll keep posting more chia seed pudding recipes if you want even more ideas! If you'd like to see a certain one, let me know in the comments or email ([email protected]).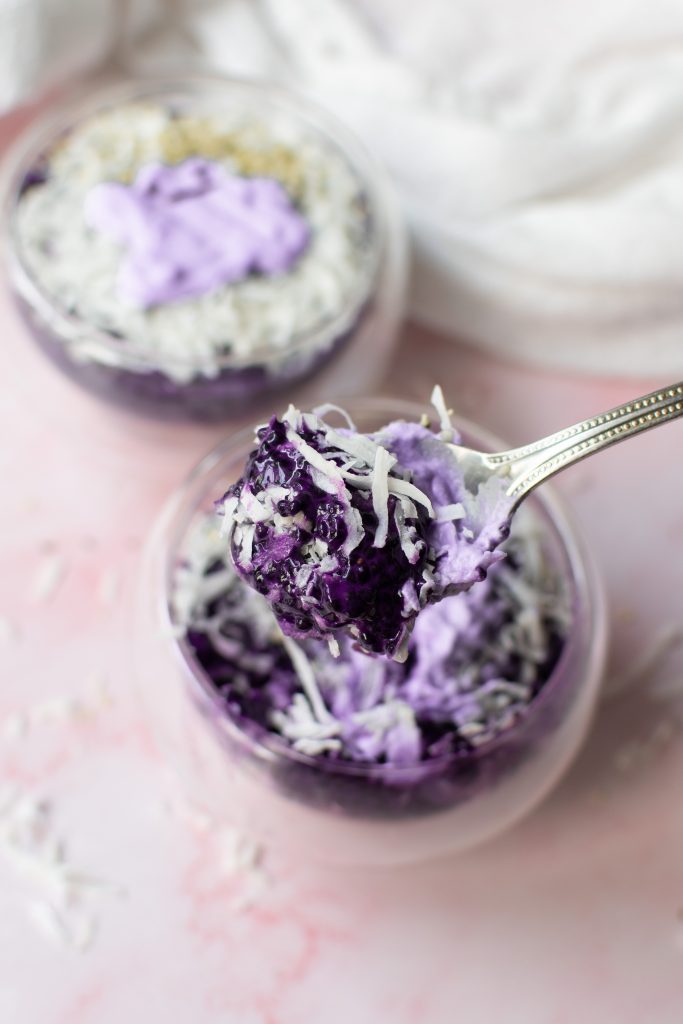 FAQ
What is ube?
If you're not familiar with ube (pronunciation: oo-beh), it is a purple yam native to the Philippines. Ube is sometimes confused with another vegetable called taro, which has an earthier flavor and is used in both savory + sweet dishes.
On the other hand, ube is sweeter and often described as having vanilla and nutty notes. It's commonly used in Filipino desserts, such as ice cream, cake, or jam. You could just use ube extract in this recipe, but I used ube extract and rehydrated ube halaya. You can find these ingredients in some Asian markets, especially Filipino ones, but if all else fails, you can buy ube extract/halaya or powdered ube online!
What does ube taste like?
Ube is usually described as a cross between subtle vanilla + pistachio flavors.
How else can I eat ube?
Good news, I have a LOT of different ube recipes on my page! I have recipes for various ube cookies, marshmallows, macarons, mochi donuts, and muddy buddies.
Where can I buy ube?
I have a few ube ingredients listed in my Amazon storefront! But, if you live by a Filipino grocery store, they should have ube extract + halaya in the baking aisle. Some Asian grocery stories will also have them.
What is chia seed pudding?
When you soak chia seeds in a liquid like water or milk for a minimum of 30 minutes, the mixture thickens and becomes a pudding-like consistency. It's a very quick, easy, and healthy snack-prep option full of fiber + healthy fats.
What is the best chia pudding ratio?
For single-serve chia pudding, you can mix together 2 tablespoons of chia seeds + 1/2 cup of milk. This recipe is double that. You can always triple or quadruple the recipe to last you the rest of the week.
How can I change up this recipe?
Read further down this blog post for more inspo! I listed different milks, toppings, powders, and spices you can use.
How long does chia seed pudding last for?
Without any toppings (like cut fruit that may brown/spoil quickly, or granola that may get soggy), the chia seed pudding should last in an airtight container in the fridge for up to one week.
Can I freeze chia seed pudding?
Yes, you can freeze chia seed pudding for up to one month! I recommend freezing it in portions, then thawing it in the fridge overnight.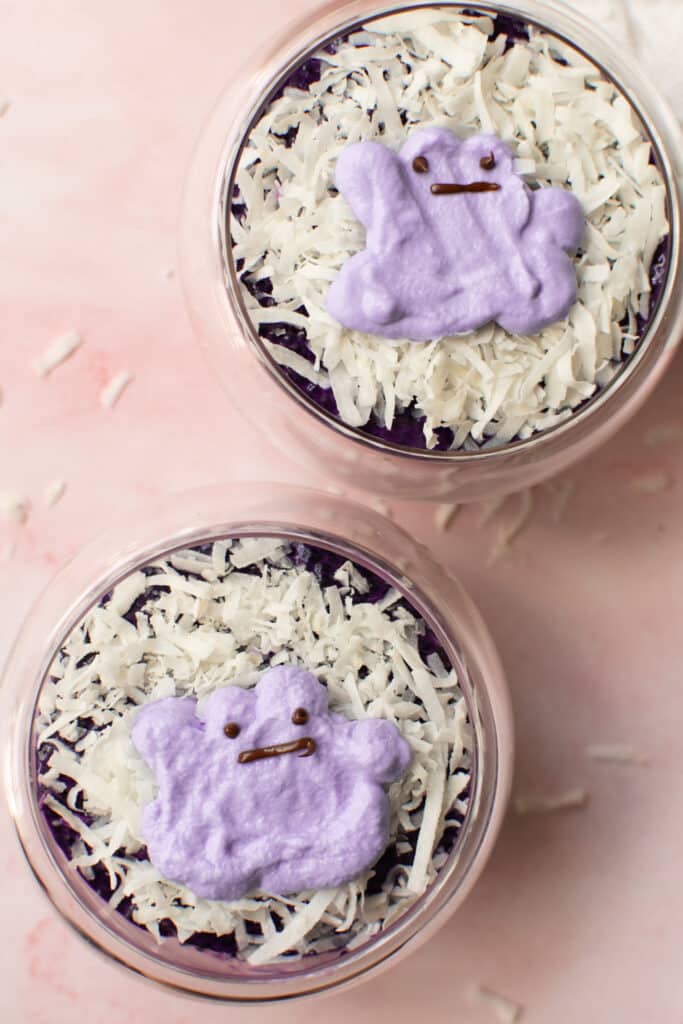 Different chia pudding flavors
Chia seed pudding is incredibly versatile! You can change the different types of milk, toppings, powders, sweeteners, or spices. Check the list below for some examples and inspiration!
Milks: swap in the same amount of almond milk, coconut milk, soy milk, whole milk, anything!
Powders: add in cacao/cocoa powder, matcha powder, protein powder, etc.
Toppings: granola, fresh/dried fruit, nuts, chocolate chips, graham crackers, whipped cream, cacao nibs, seeds
Sweeteners: granulated sugar, brown sugar, alternative sugar, honey, maple syrup, date syrup
Spices: cinnamon, nutmeg, cardamom, ginger
Lastly, you can also blend the chia seed pudding to make it lighter and more mousse-like.
Storing purple yam pudding
You can store chia seed pudding, without any toppings, in an airtight container in the fridge for up to one week. I recommend keeping the toppings separate so the fruit doesn't brown/spoil quickly and granola doesn't become soggy.
You can also freeze the ube chia seed pudding for up to one month—just make sure you thaw it overnight in the fridge!
I really hope you enjoy this recipe. If you make this easy ube coconut chia seed pudding, I'd love to see it. You can tag me at #bitesbybianca / @bitesbybianca on Instagram. Enjoy!

If you're interested in other kawaii dessert recipes I have like Aang Sugar Cookies, Frog Matcha Sugar Cookies, and Chick Lemon Cookies, check out this page!
Ube Chia Pudding
This ube chia seed pudding is full of fiber and healthy fats. It's a super quick and easy snack-prep idea to keep you full between meals!
Ingredients
For the ube chia seed pudding:
1

cup

any type of milk

(240g)

¼

cup

chia seeds

(40g)

1-2

tbsp

sweetener to taste

(white/brown/alternative sugar, honey, syrup, agave, etc)

½-1

tsp

ube extract
For the ditto design:
⅛

cup

heavy cream

(30g)

½

tbsp

powdered sugar

(4g)

⅛-¼

tsp

ube extract

½

tbsp

melted chocolate chips
Toppings:
ube jam, fruit, granola, coconut flakes, hemp seeds, cacao nibs, etc.
Instructions
For the ube chia seed pudding:
In a medium bowl, whisk milk, sweetener, and extract until combined. Taste a bit and add more sweetener if preferred.

Stir in the chia seeds, then let sit for about 10 minutes. Whisk the mixture to get rid of any chia seed clumps.

Cover the bowl and refrigerate for at least 30 minutes. The chia seeds will absorb the liquid and become thick.
For the ditto design:
In a small mixing bowl, whisk together the heavy cream and powdered sugar until thickened and is a pipeable consistency.

Stir in ube extract until combined, then transfer to piping bag.
Assembly:
In a small microwave-safe bowl, add chocolate chips. Heat in 30-second intervals, stirring in between, until chocolate is melted.

Scoop chia pudding into serving container. If you'd like, you can alternate layers of different toppings with the ube chia seed pudding!

Pipe ditto design on top using the purple whipped cream. Use a piping bag or toothpick to draw the face using melted chocolate.

Sprinkle extra toppings and serve.
Notes
Store chia seed pudding (toppings kept separately) in airtight container in fridge for up to one week.