Thin & Chewy White Chocolate Coconut Ube Cookies
Not-too-sweet chewy white chocolate coconut ube cookies perfect for any occasion!
Disclaimer: This post contains affiliate links.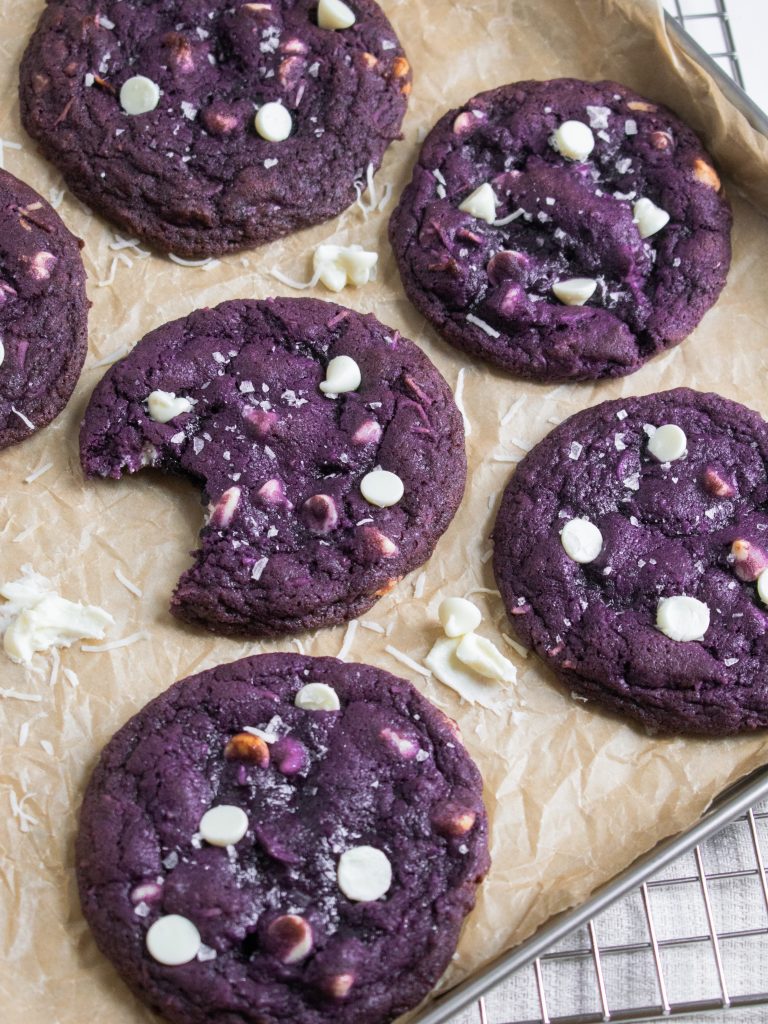 Estimated cost: $5.13 per 15 cookies, $0.34 per cookie
About this white chocolate coconut ube cookies recipe
Yes, another ube recipe! I was suuuuper happy with how my Levain-style white chocolate coconut ube cookies turned out, but I really wanted to make a thin & chewy cookie version, hence this recipe.
The major differences between my two ube cookie recipes are that these cookies: 1) have no cornstarch, 2) have melted butter and both granulated + brown sugars, 3) do not need to be frozen before baking, and 4) are baked at a lower temperature. With these changes, you get flattened cookies with crispy edges and gooey centers.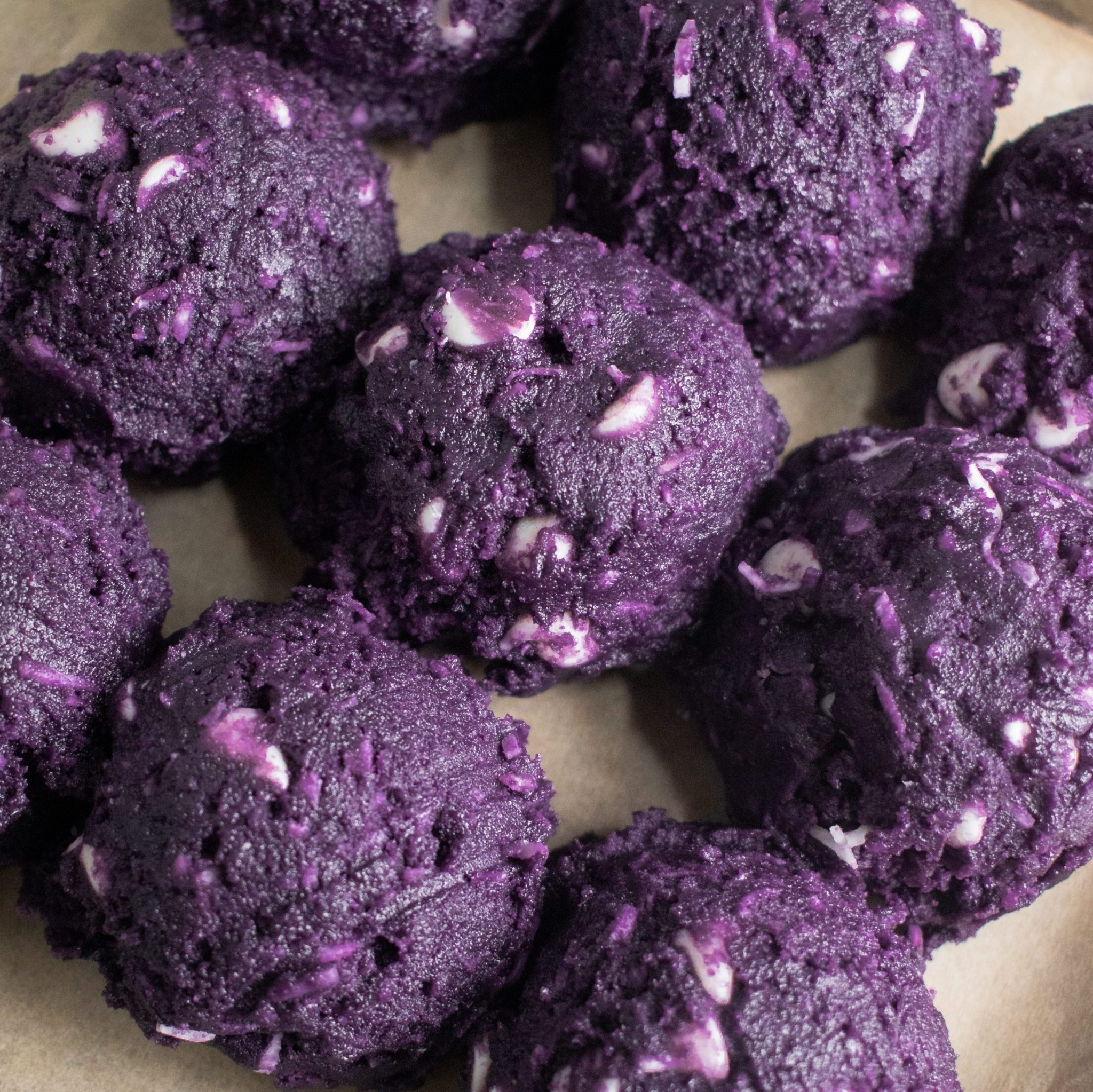 What is ube?
If you're not familiar with ube (pronunciation: oo-beh), it is a purple yam native to the Philippines. Ube is sometimes confused with another vegetable called taro, which has an earthier flavor and is used in both savory + sweet dishes.
On the other hand, ube is sweeter and often described as having vanilla and nutty notes. It's commonly used in desserts, such as ice cream, cake, or jam. You could just use ube extract in this recipe, but I used ube extract and rehydrated ube halaya. You can find these ingredients in some Asian markets, especially Filipino ones, but if all else fails, you can buy ube extract/halaya or powdered ube online!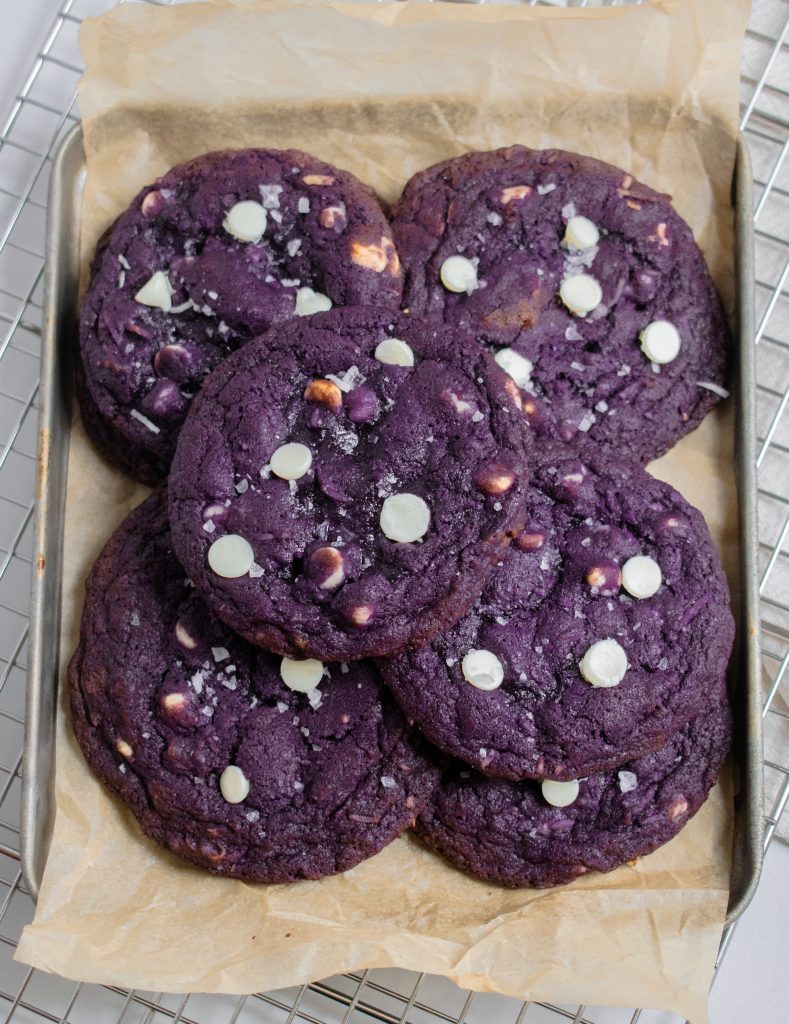 I really hope you enjoy these ube cookies. It's been quite some time since my last post and I'm happy to be back! If you make these cookies, I'd love to see them. You can tag me at #bitesbybianca / @bitesbybianca on Instagram. Enjoy! 🙂
Check out my ube coconut mochi donut recipe here!
Check out my other ube recipes: Soft, Less Sweet Ube Sugar Cookie Bears (Dairy-Free), Levain-Style White Chocolate Coconut Ube Cookies (Small Batch Recipe), Small Batch Baked Ube Coconut Mochi Donuts (Gluten-Free)
Thin & Chewy White Chocolate Coconut Ube Cookies
Ingredients
Dry ingredients:
1 ⅓

cup

all-purpose flour

(160g, $0.23)

½

tsp

baking soda

($0.01)

¼

tsp

salt

($0.01)
Wet ingredients:
½

cup

melted unsalted butter

(1 stick butter/8 tbsp, $1.25)

⅓

cup

brown sugar, packed

(73g, $0.40)

½

cup

granulated sugar

(100g, $0.19)

1

egg

($0.17)

1

tbsp

rehydrated ube ($0.68, optional, see notes)

1 ½

tsp

ube extract

($0.21)
Mix-ins:
¾

cup

white chocolate chips

(128g, $1.31)

½

cup

shredded unsweetened coconut

(50g, $0.66)
Instructions
In a medium bowl, whisk together all of the dry ingredients: all-purpose flour, baking soda, and salt.

In a stand mixer using the paddle attachment, cream the melted butter and both sugars on medium speed until smooth and fluffy, about 2 minutes.

Add egg, rehydrated ube, and ube extract to the bowl. Mix until combined, about 10-20 seconds.

Add all of the dry ingredients to the stand mixer and pulse a few times until it is mostly incorporated. Add all of the white chocolate and shredded coconut. Pulse a few more times.

Use cookie scoop to form dough into balls (about 1.5-2 tablespoons each) and place them on a lined baking sheet or plate. Refrigerate dough for at least 30 minutes.Note: If you want to bake these later, you can put the sheet/plate in the freezer. Once the dough balls are frozen, you can transfer them to an airtight container or bag for up to 3 months. You can bake them right from the freezer, but you may have to increase the baking time by 2-3 minutes.

Place oven rack in the middle of the oven. Preheat the oven to 350°F/177°C.

Line two baking sheets with parchment paper/silicone mats and place dough balls on top, at least 3 inches apart. Bake for 10-13 minutes, until edges are slightly browned. Immediately sprinkle flaky sea salt on top.

Optional: Once the cookies come out of the oven, you can gently push in a few white chocolate chips on the top of each cookie for the ~aesthetic~. If you want the cookies to be circular, take a large circular biscuit cutter or something wider than your cookies, like the rim of a mug. Place the circular cutter on top of your still warm cookie while it is still on the baking sheet. Move the cookie around in the cutter in a circular motion. This pushes the sides of the cookie towards the center, forcing it to mold into a circular shape. (more details can be found here: https://food52.com/blog/23550-best-chocolate-chip-cookies-how-to-make-round)

Allow to cool on sheet for at least 5 minutes.
Notes
I adapted Jamie Silva's chewy chocolate chip recipe by using ube extract instead of vanilla extract, adding a bit of salt, swapping out chocolate chips for white chocolate chips + coconut, and decreasing the amount of sugar.
I use this recipe to rehydrate ube powder. I store the leftovers in the freezer. You can also use mashed ube.
If you are using fresh ube, I suggest boiling it and mashing it. Use 1 tbsp of the mashed ube in place of the rehydrated ube.
If you are using ube halaya, I suggest using 1 tbsp of the halaya in place of the rehydrated ube. Since ube halaya is sweet, remove 1 tbsp of the brown sugar.
If you want to omit the white chocolate chips, you can add a different mix-in with the same volume as a replacement. I suggest using different types of chocolate, roughly chopped macadamia nuts, etc. 
If you want to omit the shredded coconut, you don't need to swap in anything to replace it! 🙂
You can freeze the unbaked shaped dough in an airtight container for up to 3 months. You can bake straight from the freezer, just adjust the baking time by 2-3 more minutes.