Parmesan, Thyme, and Rosemary Sourdough Crackers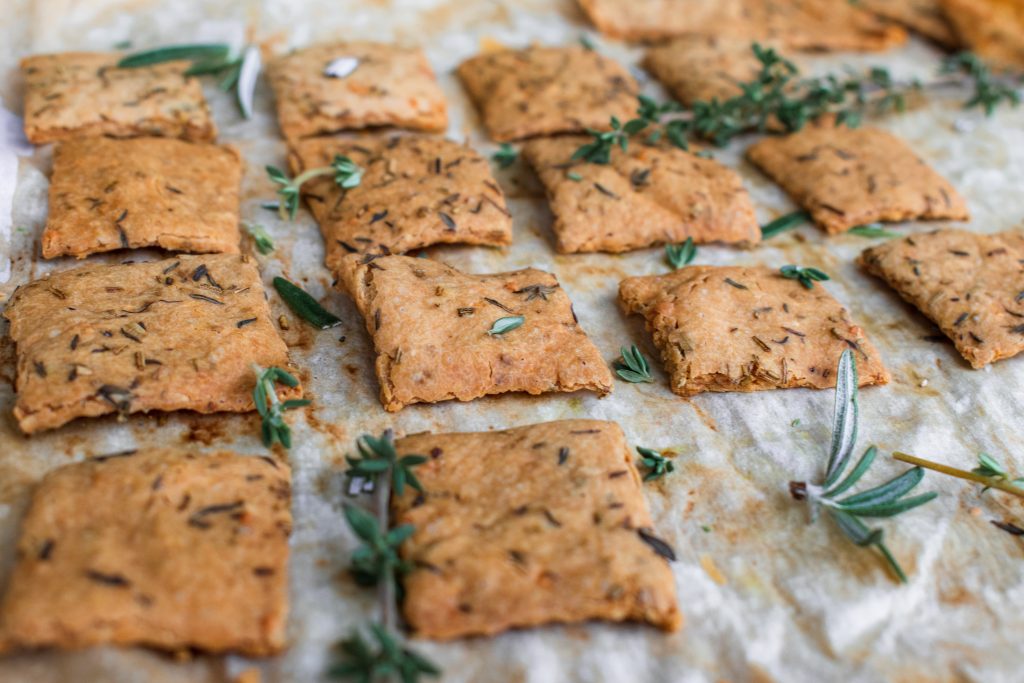 I love making sourdough crackers because of how simple they are to make. You just have to mix sourdough discard, melted butter or oil, and any seasonings/grated hard cheeses. It's a great way to use all of your discard if you feed your starter pretty often.
For this recipe, I chose to add melted butter, rosemary, thyme, and a lot of grated parmesan cheese. You can make these crackers vegan by subbing vegan butter/hard cheese or by using oil. These crackers are extremely versatile, so you can change up the flavors every time you make them. For example, you can add Everything Bagel Seasoning, different herbs/cheeses, or seeds. Maybe in the future, I'll whip up some sweet sourdough crackers made with cinnamon sugar, or even layer on some toffee and chocolate to make a simple dessert!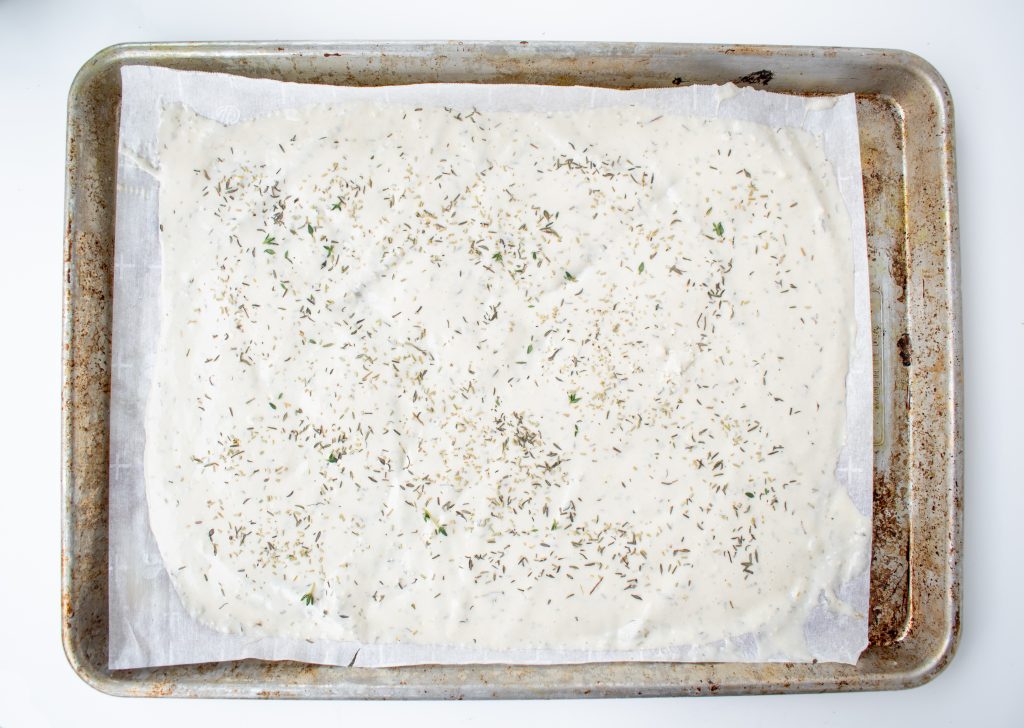 Since no extra flour is added to this recipe, you don't need to roll out any dough. You only have to thinly spread out your sourdough cracker mixture onto parchment paper or a silicone mat, and bake for 40-60 minutes. If you want to score your crackers with a knife or pizza cutter, you can do so around the 10-minute mark. Otherwise, you can wait until the whole thing is baked and break the crackers apart by hand.
If you make sourdough crackers, I'd love to see them! Tag me at @bitesbybianca / #bitesbybianca. Enjoy! 🙂
Parmesan, Thyme, and Rosemary Sourdough Crackers
These buttery, cheesy cookies are a great way to use up all of your sourdough discard!
Ingredients
350

g

sourdough discard, 100% hydration

(1 ½ c)

28

g

butter, melted and fully cooled

(2 tbsp)

8

g

salt

(1 ⅓ tsp)

6

g

dried rosemary

(2 tbsp)

25

g

grated parmesan cheese

(5 tbsp)
Instructions
Preheat your oven to 350°F/180°C. Line a baking sheet with parchment paper or a silicone mat.

In a bowl, mix all of the ingredients together.

Evenly spread the mixture onto the parchment paper or silicone mat, all the way to the edges of the pan.

Bake the crackers for 10 minutes. If you'd like to score your crackers with a knife or pizza cutter, take the crackers out and do so. Pop the crackers back into the oven for another 30-50 minutes until golden brown. Alternatively, you can skip the scoring step, continue baking for 30-50 minutes, and break the crackers afterward.

Remove from oven and allow to cool.
Notes
Some crackers may brown more quickly than others. You can remove them and allow the rest to continue baking.
To make these crackers vegan, sub in vegan butter or oil, and vegan parmesan cheese. 
Store the crackers in an airtight container at room temperature for up to one week.