Cute Frog Meringue Cookies (French method)
These adorable frog meringue cookies are light, not-too-sweet, and perfect with a warm cup of coffee or hot chocolate.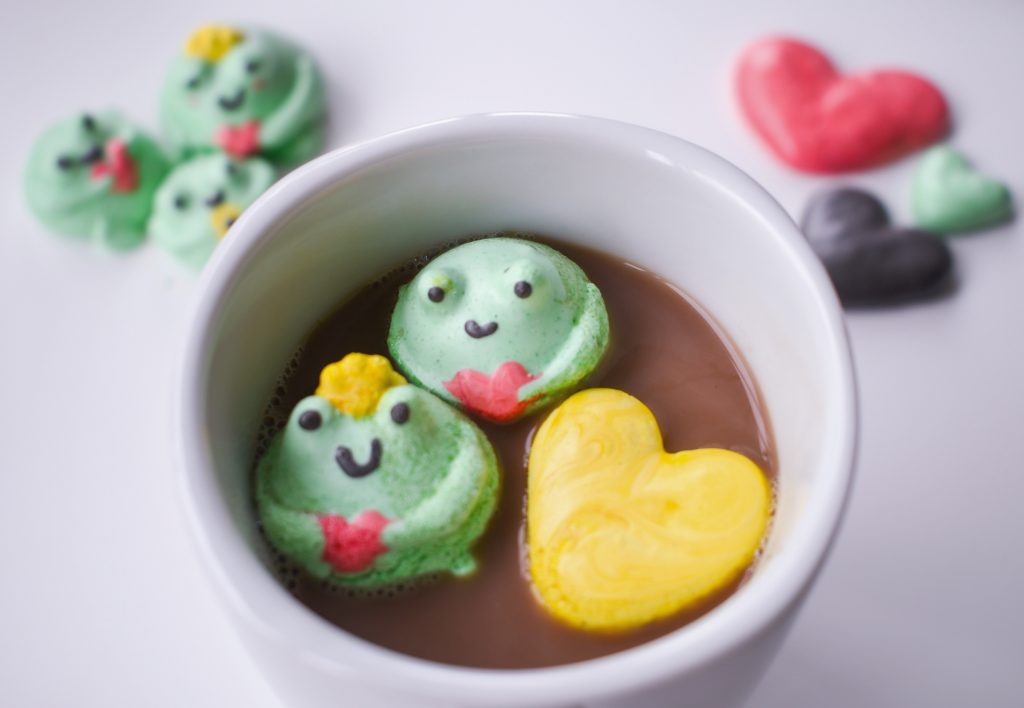 Estimated cost: $0.50 per 15 frogs, $0.03 per frog
Character meringue cookies have kind of taken over Instagram and TikTok. And understandably, so have buttercream frog cakes. I've been in love with both and wasn't sure which one to make first, so I made these frog meringue cookies. I added these on top of my salted caramel hot chocolate, which was delicious!
I made the French meringue by whipping together egg whites and sugar (1:2 ratio), added my desired extracts and gel/powder food coloring, and then piped the meringue into frogs. If you don't want to make frogs, you can make regular/other character meringues, pipe out words, make a meringue cake, etc.! The only trick is to stop them from cracking when baking. To avoid this from happening, make sure you bake them at the right temperature by using an oven thermometer, avoid over baking them, and let them cool completely.
You can check out the video below to watch how I piped these frog meringue cookies! I cut small tips on my piping bags and used a cookie scribe to move the meringue into place. If you don't have a scribe, you can use a toothpick instead. 🙂
If you make character meringues, I'd love to see them! Tag me at @bitesbybianca / #bitesbybianca. Enjoy! 🙂
Frog Meringue Cookies
Turn your meringue cookies into fun little characters!
Ingredients
32

g

egg white

see intructions ($0.17)

64

g

granulated sugar

see instructions ($0.12)

½

tsp

extract/flavoring

I used butter + vanilla extracts ($0.21)
Instructions
Notes:
The egg white:granulated sugar ratio is 1:2. Since one egg white weighed 32g, I used 64g granulated sugar. Adjust the weights according to how much your egg white weighs.
For the Meringue:
In a small-medium mixing bowl, whip your egg whites on medium-low speed until frothy, about 1-2 minutes.

Turn your mixer to medium speed and gradually add granulated sugar 1 tbsp at a time. Continue whipping until your meringue reaches soft peaks.

Add your extract/flavoring. Continue whipping at medium speed until you reach medium peaks and all the sugar is dissolved. This can take up to 10 minutes!

I checked to see if my meringue was ready by holding the whisk and moving the mixture around, allowing it to ribbon onto itself. If the ribbons held their shape, the meringue was ready. If not, I continued mixing on medium speed.
Make the Frogs:
Preheat your oven to 180°F. Line a baking sheet with parchment paper or a silicone mat.

Split the meringue into the number of colors you want. For my frogs, I split the batter into four bowls to make green, red, yellow, and black meringues.

Add your desired gel/powder food coloring of choice and use a rubber spatula to gently fold the colors in. Scoop the colored meringues into their own piping bags.

Snip the tip of your piping bags and begin creating your characters. Use a cookie scribe or toothpick to move the meringue into place.

To see how I made the frog shapes, see the video above.

Bake for 1.5-2.5hr. The meringue cookies are done baking if they easily lift off the baking sheet. Allow to completely cool on wire rack before serving.
Notes
Store meringues in an airtight container at room temperature for 1-2 weeks, or in the freezer for up to a month. If the meringues become chewy, rebake them at 180°F for 10-15 minutes.