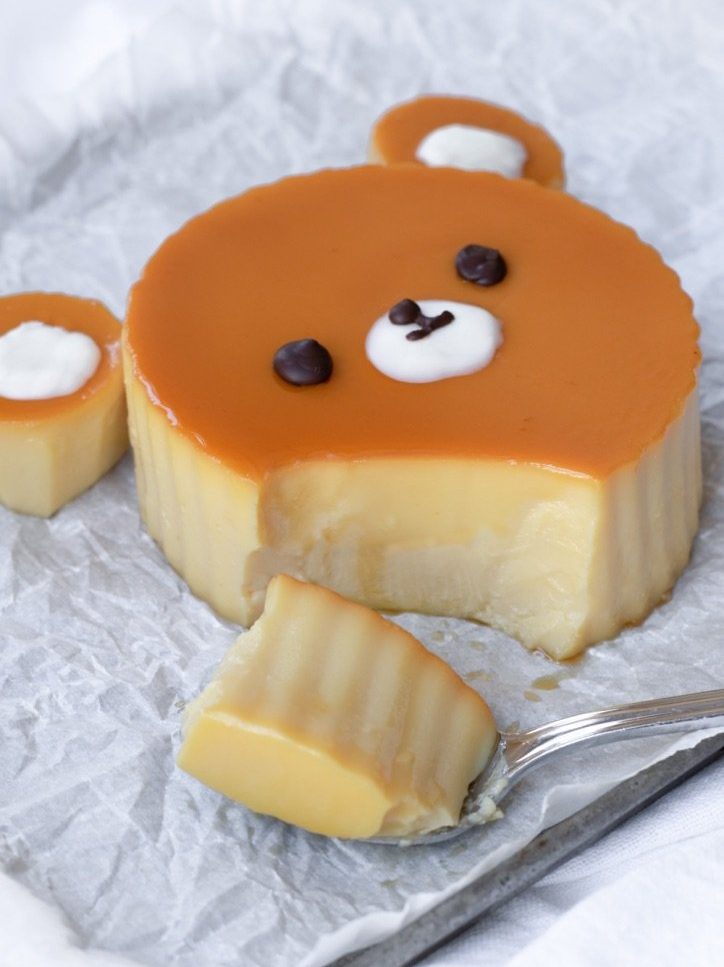 Estimated cost: $4.78
Every time I visit home, my mom makes leche flan because she knows it's one of my favorite Filipino desserts. I haven't been home in a while, so I asked for her recipe because I had a strong craving for it! My mom's leche flan is THE BEST leche flan, and my best friends can seriously attest to that. So of course I had to make her recipe, but add my own twist to it by turning it into a little flan bear. I'd like to think I made my mom proud when I showed her my flan bear because she later mailed me two cases of evaporated and sweetened condensed milk, haha.
If you haven't had leche flan before, it is a very silky, creamy custard, topped with a caramel sauce. Truthfully, before I made it for the first time, I was intimidated of making it just by hearing the words custard and caramel. It turns out it is a very simple, fast recipe that only requires a few ingredients. You only need sugar, egg yolks, sweetened condensed milk, evaporated milk, and vanilla. If you want to recreate the bear, you'll also need some melted white + milk/dark chocolate.
Traditionally, leche flan is made in a llanera, which is an oval-shaped tin. Since I didn't have one, I used two 5-inch ramekins. Alternatively, you can also use a 9-inch cake pan.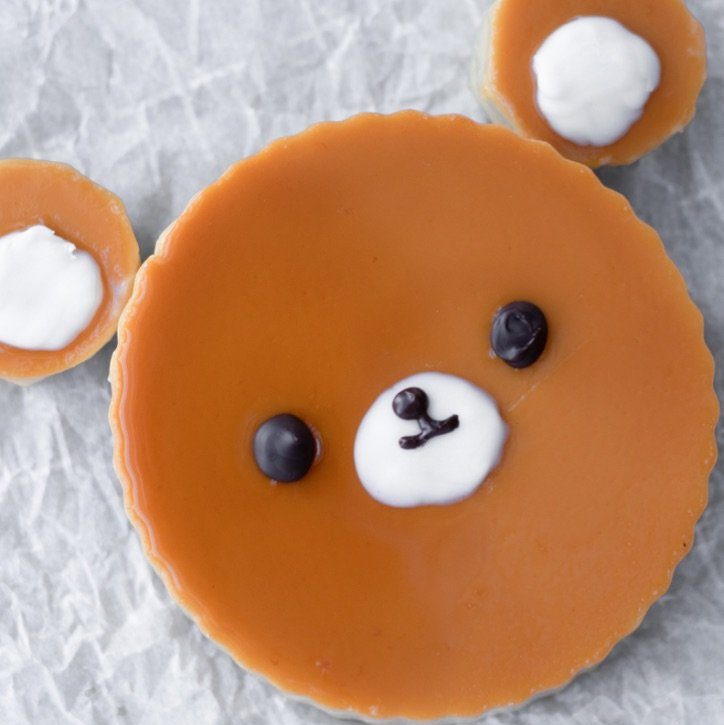 To make the leche flan, you will start off by making the caramel. To do this, you melt sugar over low-medium heat until it fully dissolves, then pour it into your baking dish. While the caramel hardens, you'll work on the custard, which is just involves whisking the sweetened condensed milk, egg yolks, vanilla, and evaporated milk. If you want, you can add some grated lemon zest as well.
Then, you pour the flan mixture into the baking dish, cover with aluminum foil, place the baking dishes into a water bath (Bain-marie method) in a roasting pan, and bake for 30-60 minutes. The baking time will vary with the size baking dish you use, but check the flan after 30 minutes by sticking a cake tester or toothpick in the middle. If it comes out clean, you can remove the flan and let it cool. If it doesn't come out clean, continue baking and check it every 5-10 minutes until done.
After baking, you must let the flan cool for a bit at room temperature, then leave it in the fridge until it is completely chilled (about 3 hours). Once cooled, you run a knife on the edges of the baking dish to loosen the flan, then invert it onto a lined rimmed baking tray to catch any of the extra caramel sauce.
Using a 4-inch circular cookie cutter, cut out the bear's head. Then, use a 1.5-inch cookie cutter to cut out the two ears. Place the head and ears onto your serving dish, and decorate using the melted white and milk/dark chocolate. Feel free to view my reel below on how I made the bear-shaped leche flan!
I really hope you enjoy this recipe. If you make this flan, I'd love to see it. You can tag me at #bitesbybianca / @bitesbybianca on Instagram. Enjoy! 🙂
Bear-Shaped Leche Flan
Equipment
Two 5-inch circular ramekins, or one 9-inch cake pan

see notes below!

One 4-inch and one 1.5-inch circular cookie cutter
Ingredients
Flan:
1

can

14 oz sweetened condensed milk

($1.50)

1

can

12 oz evaporated milk

($1.50)

8

egg yolks

($1.36)

1

tsp

vanilla extract

($0.42)
Decorations:
melted white and milk/dark chocolate
Instructions
Preheat oven to 350°F/177°C.
For the caramel:
**Tip: The caramel hardens quite fast, so make sure you have your baking dish near you so you can immediately pour the caramel into them!

In a saucepan, add 1 cup of sugar and cook over low-medium heat. Do not stir the sugar, but do occasionally swirl the pan while cooking until all of the sugar dissolves. Once fully dissolved and the liquid is golden, pour caramel into the baking dishes, evenly covering the bottom. You can tilt the baking dishes to distribute the caramel around. Try to not make the layer too thick.
For the flan:
While the caramel hardens, work on the flan. In a medium mixing bowl, add egg yolks, condensed milk, and vanilla. Whisk together until fully combined.

Slowly add evaporated milk while whisking.

To make extra smooth flan, strain the mixture by pouring it into another container through a fine mesh sieve. I like to strain mine into my 4 cup liquid measuring cup, since this recipe makes about 3 cups of liquid and the measuring cup has a spout for easy handling!

Pour flan mixture into baking dishes with the hardened caramel. Place baking dishes into a larger roasting pan. Pour water into roasting pan so that the baking dishes are sitting in at least 2 inches of water. Cover the baking dishes with aluminum foil.

Place roasting pan with covered flan into the preheated oven. Depending on the size of your baking dish, baking time may vary from 30-60 minutes. At the 30 minute mark, check if the flan is done: the center should still jiggle slightly, but the top should feel a bit firm to the touch. Stick a cake tester or toothpick in the middle of the flan. If it comes out clean, it can be removed from the oven. If not, check flan every 5-10 minutes.

Remove from oven and take baking dishes out of the roasting pan, placing them on a cooling rack. Allow to cool until room temperature, then cover and refrigerate until completely chilled, at least 3 hours.

Run knife around the edges of the flan to loosen it, then invert the dish onto a rimmed tray (to catch the extra caramel) lined with parchment paper.

Some hard caramel will stick to the baking dish—it's completely normal and happens to most people. For easier clean up, soak the dish in hot water, changing the water whenever it cools down.

Use 4-inch cookie cutter to cut out the bear's head, then use the 1.5-inch cookie cutter to cut out two ears. Place the head and ears onto your serving dish.
To decorate:
Melt white and milk/dark chocolate and pour into their own piping bags. Snip a small opening off the piping bags and use the white to make the snout, then the inner ears. Use the milk/dark chocolate to add the nose, mouth, and eyes.

**Tip: If needed, use a scribe or toothpick to help move the milk/dark chocolate around for the mouth.
Notes
*You can really make this in any baking dish that will fit the flan mixture, which is about 3 cups of liquid. Just make sure you are able to cut out one large circle and two smaller circles to be able to make the bear.
You can eat the scraps or blend them to make a leche flan cream for other desserts!