THICCC ube cookies topped with fluffy, stretchy ube marshmallows!
Disclaimer: this post contains affiliate links.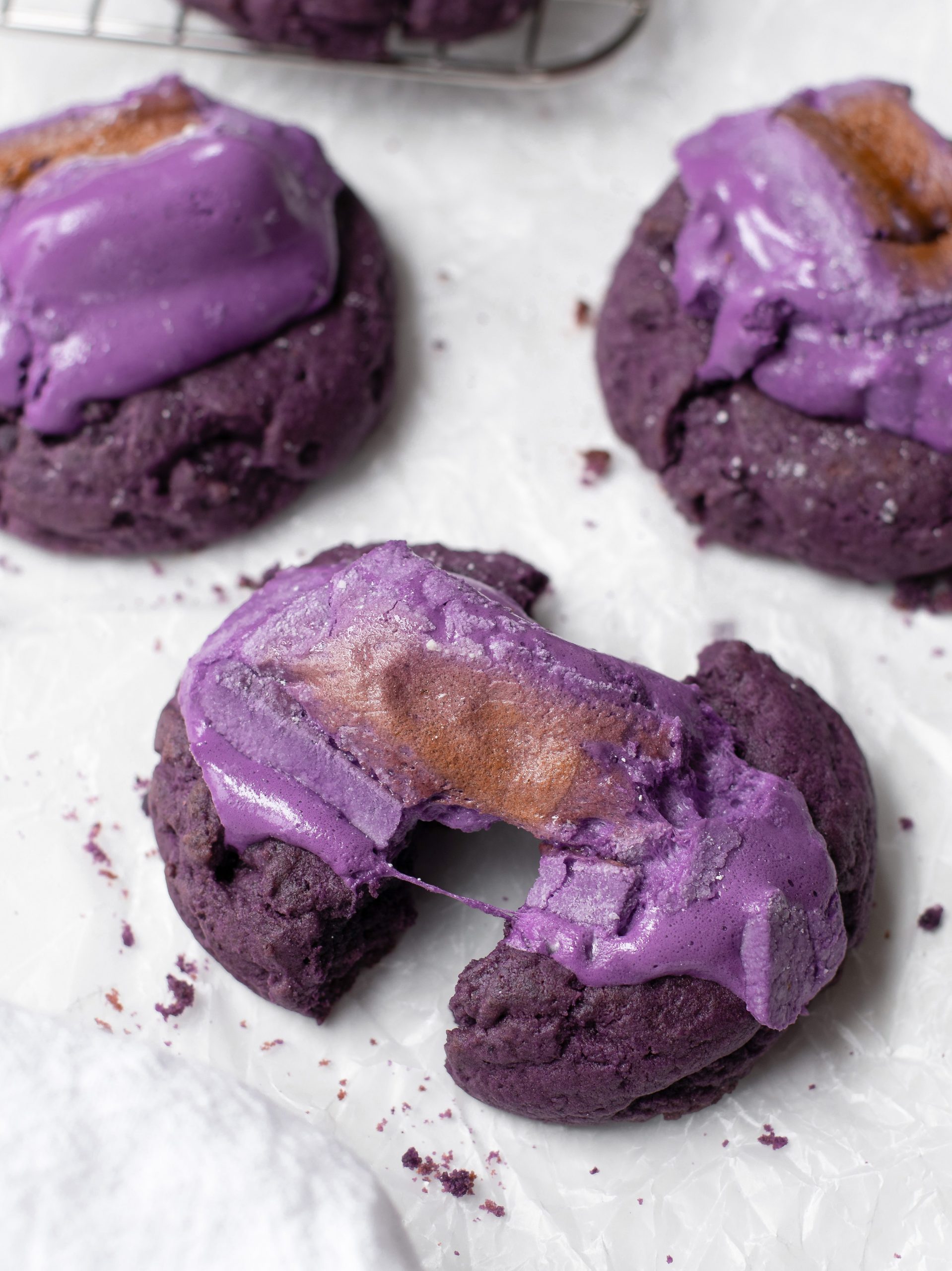 Estimated cost: $2.8 per 8 cookies, $0.35 per cookie
About these ube marshmallow cookies
If you read my last post on my homemade ube marshmallows, you might recall me saying I specifically made them for this bake! After seeing Oatsfairy's amazing Instagram reel on her strawberry fluffernutter cookies, I knew I had to make my own version. So thank you, Dana, for inspiring me! I plan on making another version, so stay tuned.
I probably say this almost every time I post a new cookie recipe, but WOW. These ube marshmallow cookies are seriously one of my favorite cookies! They're thick, packed with ube flavor, topped with a stretchy, gooey marshmallow, and are the perfect amount of sweet. Since I made a few batches when tweaking the recipe, I had to give most of them away to a neighbor because my housemate and I couldn't stop eating them.
Once you have the ube marshmallows already prepared, making these cookies is a breeze! However, if you don't want to make ube marshmallows, feel free to top the cookies with large store bought white marshmallows—they will still be delicious.
What is ube?
If you're not familiar with ube (pronunciation: oo-beh), it is a purple yam native to the Philippines. Ube is sometimes confused with another vegetable called taro, which has an earthier flavor and is used in both savory + sweet dishes.
On the other hand, ube is sweeter and often described as having vanilla and nutty notes. It's commonly used in desserts, such as ice cream, cake, or jam. You could just use ube extract in this recipe, but I used ube extract and rehydrated ube halaya. You can find these ingredients in some Asian markets, especially Filipino ones, but if all else fails, you can buy ube extract/halaya or powdered ube online!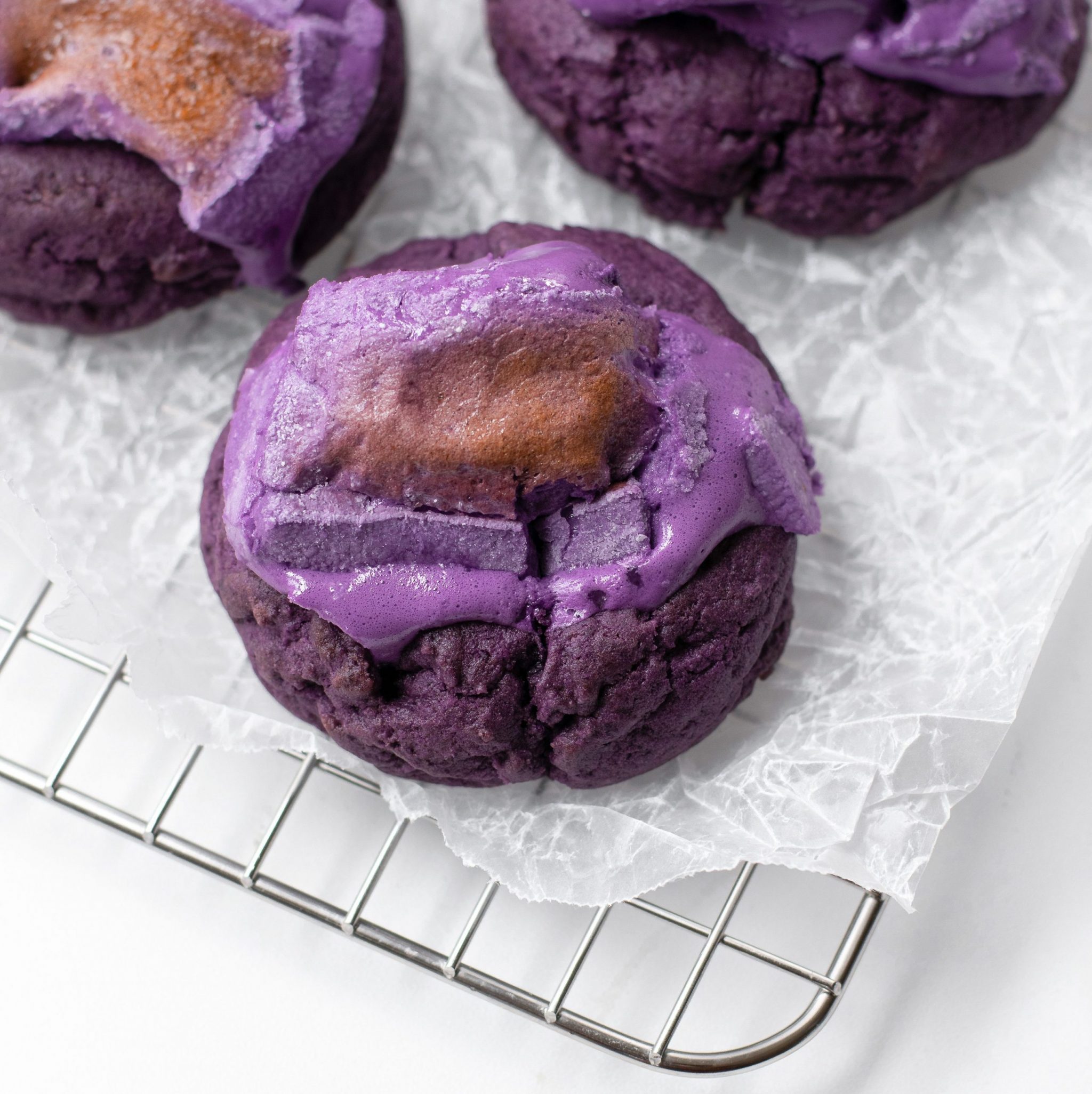 Making the ube cookies
To make the dough, you beat the butter, sugars, and ube halaya (can be store bought or homemade—I love this recipe) together. Then, you mix in an egg and ube extract. After everything is combined, fold in the flour, baking soda, salt, and cornstarch. The cornstarch helps keep the cookie's shape and makes them cakier + softer.
The dough is then covered and refrigerated for at least 30 minutes. I tend to refrigerate almost all cookie doughs that I make because it helps the cookies from spreading a lot and also enhances their flavor. Once the dough is chilled, use a large cookie dough scoop (~3 tbsp) to form the dough into balls, then bake on a lined baking tray at 350°F/177°C for 10-13 minutes. The cookies will be slightly puffy, retain their purple color (so don't wait for any browning), and have set, firm edges. Now, this step is important: let them cool on the pan for about 15 minutes before continuing on.
When the cookies are mostly cooled, you can go ahead and place your marshmallows on top. If you were to do this when the cookies are still warm, the marshmallows would completely melt and turn into a puddle of goo. If you want that, please go ahead—they will just look a bit rough around the edges! After placing the marshmallows on top, you can either use a kitchen blowtorch to roast them, or place your cookies underneath a broiler for about 1 minute. Keep your eye on them and remove them once the marshmallows are roasted to your liking.
After roasting the ube marshmallows, I like to wait about 10-15 minutes to eat them because the marshmallows will be slightly set and have better texture. They'll be stretchy when pulled apart, instead of a pool of liquid. Check out the reel below to see how they look!
How to store these ube cookies
Store cookies in an airtight container at room temperature for up to a week.
Sidebar Layout
I really hope you enjoy this recipe. If you make these ube marshmallow cookies, I'd love to see them. You can tag me at #bitesbybianca / @bitesbybianca on Instagram. Enjoy! 🙂
Ube Marshmallow Cookies
Thick, puffy ube cookies topped with homemade stretchy, pillowy ube marshmallows. Don't skimp out on the flaky sea salt—it perfectly balances the overall sweetness of the cookie!
Ingredients
Dry ingredients:
2

cups

all-purpose flour

(240g, $0.58)

½

tsp

baking soda

($0.01)

½

tsp

cornstarch

($0.01)

1

tsp

salt

($0.01)
Wet ingredients:
½

cup

unsalted butter, melted and cooled

(1 stick butter/8 tbsp, $1.25)

¼

cup

ube halaya, homemade or storebought, see notes

(65g, $0.34)

½

cup

granulated sugar

(100g, $0.20)

¼

cup

light or dark brown sugar

(50g, $0.27)

1

tsp

ube extract

($0.14)

1

egg

($0.17)
Instructions
In a medium bowl, whisk together all of the dry ingredients: all-purpose flour, baking soda, cornstarch, and salt.

In a stand mixer using the paddle attachment (can alternatively use hand mixer or whisk), mix the butter, ube halaya, and sugars on medium speed until combined.

Scrape bottom of bowl. Add ube extract and egg, then mix again.

Fold in all of the dry ingredients using a rubber spatula. Cover the dough and chill in the fridge for at least 30 minutes. This reduces the cookies from spreading and enhances the flavor.

Preheat oven to 350°F/177°C and line two baking trays with parchment paper or silicone mats.

Use large cookie dough scoop to gather dough (about 3 tablespoon each). Shape dough into ball, then place onto lined baking tray. Slightly flatten with palm of your hand or bottom of a cup.

Bake for 11-13 minutes. Cookies should look slightly puffy and soft in the center with firm, set edges. They will not brown because of the purple color.

Let cool on pan for about 15 minutes. Cooling the cookies before adding the marshmallows helps the marshmallows keep their shape and not completely melt into a puddle due to the heat.

Once the cookies are mostly cooled, turn on your broiler (can alternatively use a kitchen blowtorch). Place one ube marshmallow on top of each cookie, then broil/blowtorch until the marshmallow is roasted to your liking. If using a broiler, this will take about 1 minute. Keep an eye on them and be careful to not burn them. Remove cookies from broiler and sprinkle flaky sea salt on top.

Let marshmallow cool for 10-15 minutes. If eaten ASAP, the marshmallow will be a gooey mess, unless you prefer it that way. Cooling allows the ube marshmallow to set and have a bit of a stretch when you pull it apart, like in my video.
Notes
My homemade ube marshmallow recipe can be found here.
This is my favorite ube halaya recipe. It makes a bunch, so I keep most of it frozen down.
Store cookies in an airtight container at room temperature for up to a week.