These homemade dog waffles are super quick and easy to make! The batter is mixed in one bowl, then transferred to a mini waffle iron. Top one waffle with your dog's favorite treats and their tails will be wagging non-stop!
*Disclaimer: this post contains affiliate links.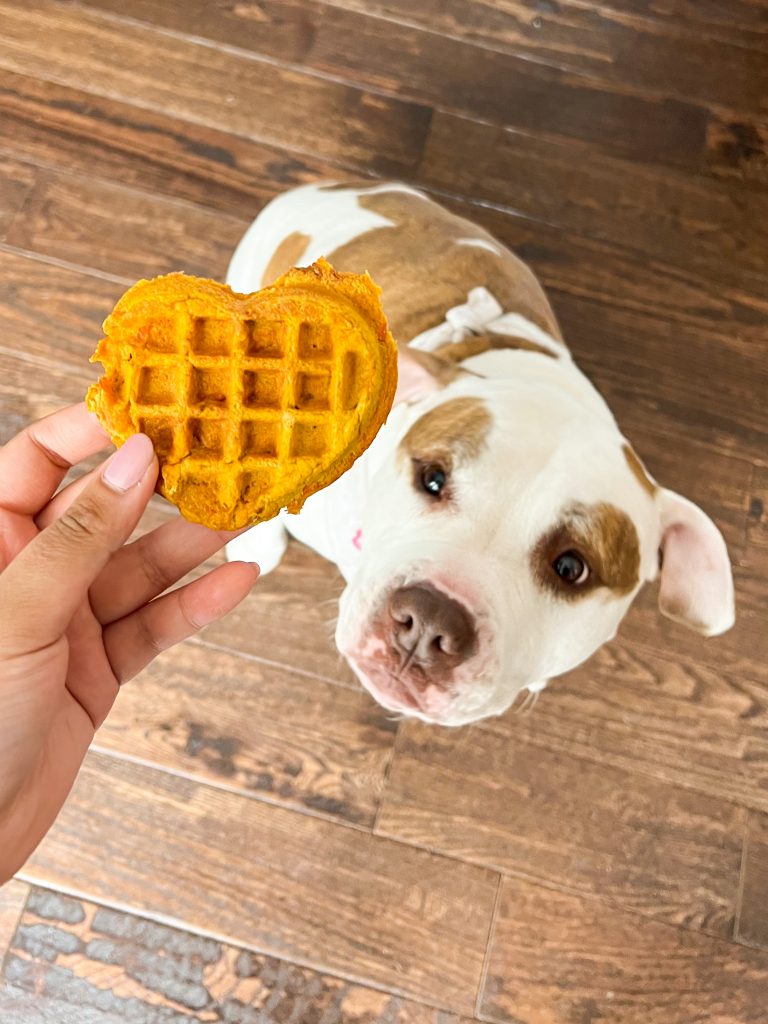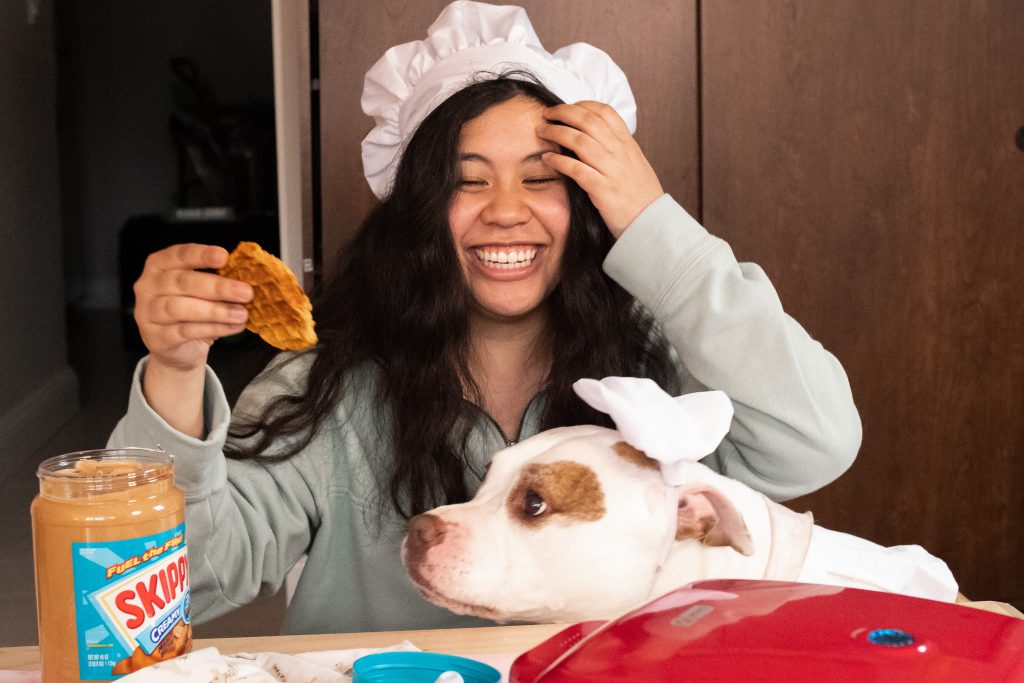 First… meet Miley!
If you know me in real life, you know I absolutely love dogs. I never had a dog growing up and it was always my dream to own one. Since I didn't have the time or money to have one in my early twenties, I either borrowed my neighbors' dogs or dog sat for strangers, just to get my fill. I actually ended up dog sitting for random families in Boston for about 4 years, which was really fulfilling for me!
But NOWWWW, I have my own pup named Miley. Well, she's not really a pup, since she's 7-years-old and 70 lbs. of love, but she's still a pup in my heart. She is of course what inspired this dog treat series, which I filmed with my partner (hi, Ryan <3) ! We're really excited to make more videos, so stay tuned for more homemade dog treat recipes. 🙂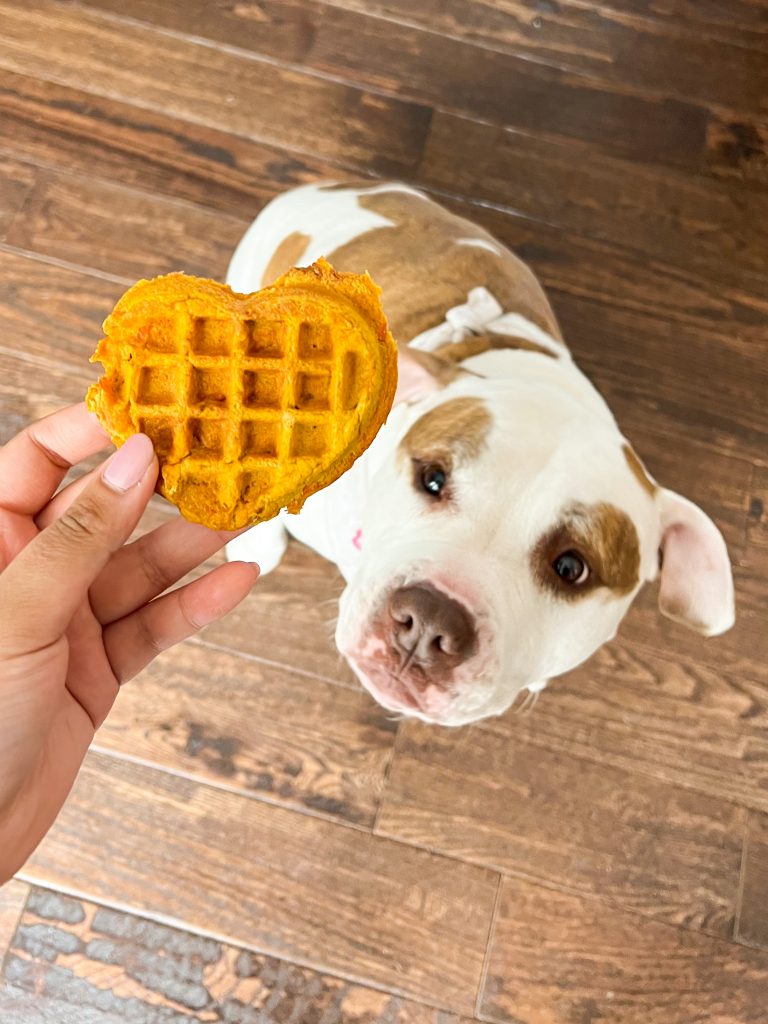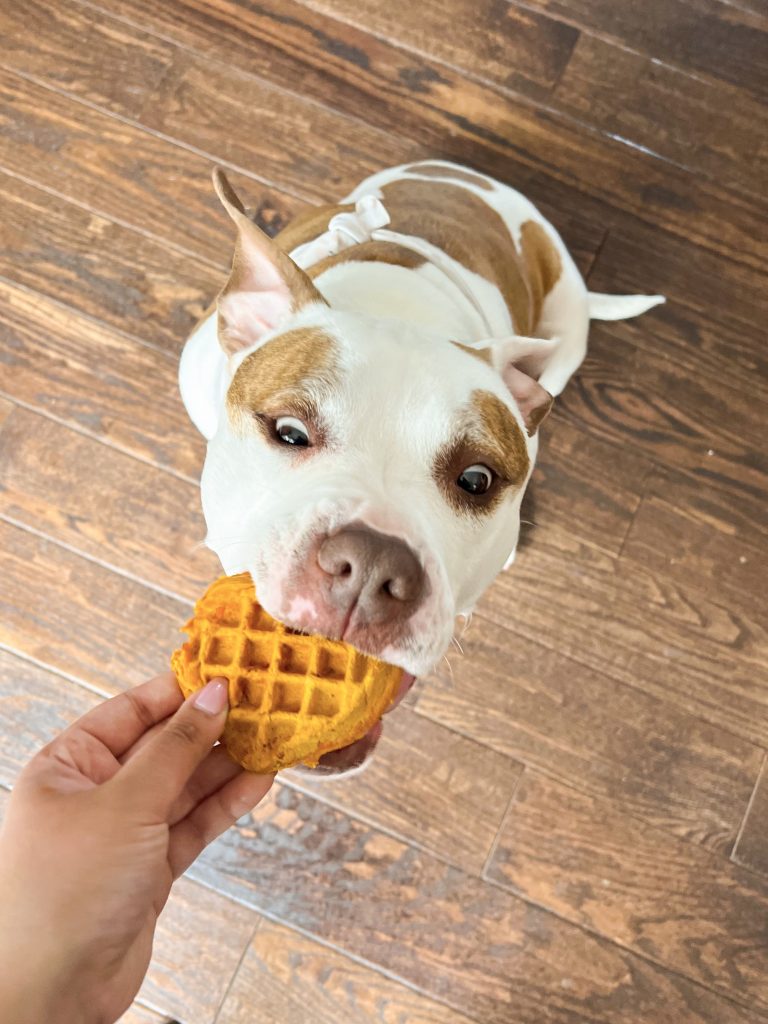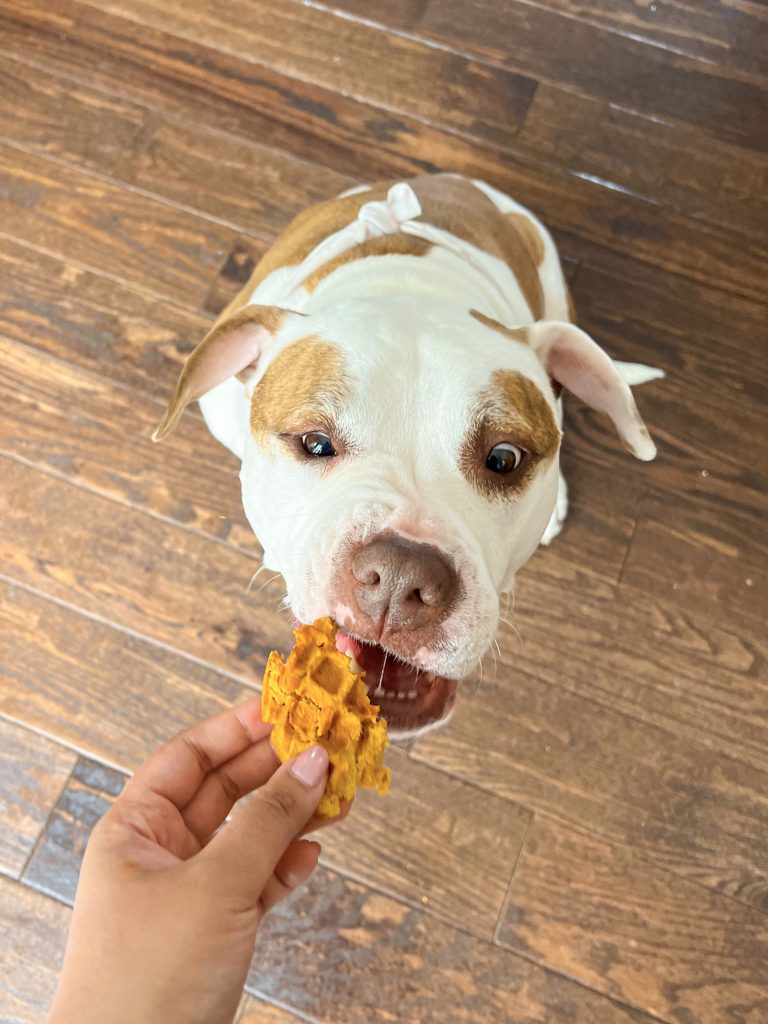 About these homemade dog treats
If you were ever interested in making your pup some homemade dog treats, this is a really easy beginner recipe! The batter is made with just 6 ingredients in one bowl, then transferred to a preheated and greased waffle iron. They're cooked for just a few minutes until golden brown, then slightly cooled so your pup can enjoy them. And trust me, your pup will be so excited to eat one! Just look at the pics above of Miley eating them! 🙂
I used this cute mini heart waffle iron and ended up with 6 mini waffles. If you use a regular waffle iron, you may end up with 2-3 waffles. I just suggest cutting them into sections so you don't overfeed your pup.
After cooking the pumpkin dog waffles, I topped one with some Skippy peanut butter. Feel free to add other dog-friendly toppings, such as bananas, strawberries, or small dog treats.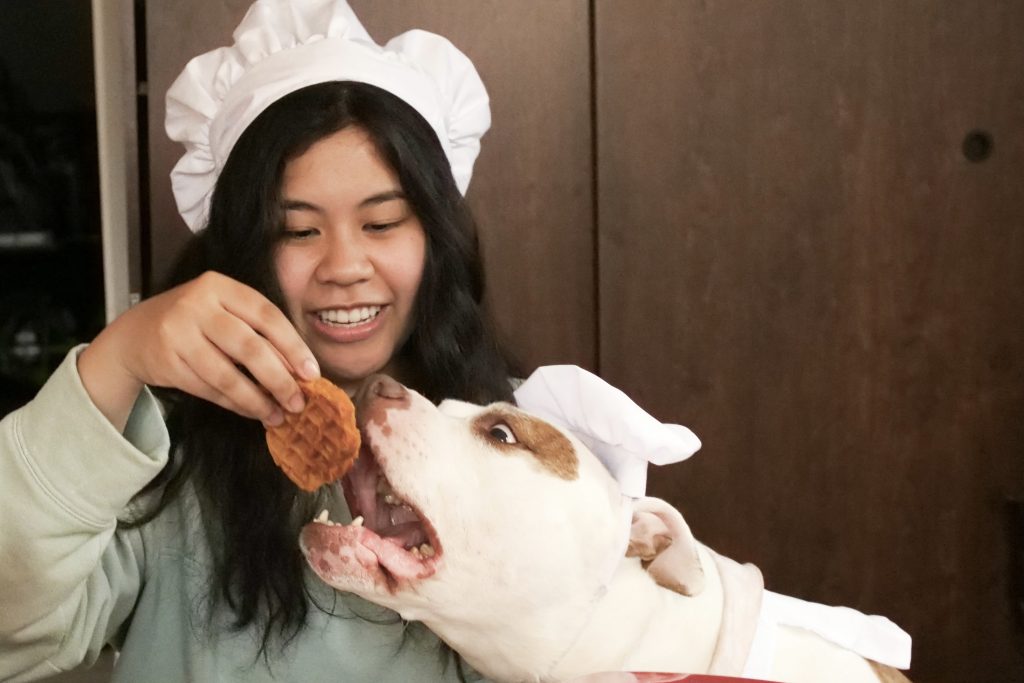 How many treats can I give my dog?
It depends on the size of your pup and how much they ate so far in the day! Larger breeds can eat more than smaller ones, and it is important to not overfeed your pup.
For Miley, I limit her one mini waffle treat a day. I only give it to her every few days, since I like to mix up what treats I feed her. If you have a smaller dog, give them a portion of a mini waffle instead.
Storing the dog waffles
Since this makes multiple waffles, you can store the leftovers in the freezer for up to 2 months. I recommend placing parchment or wax paper between each waffle so that they don't stick together in the freezer.
Pumpkin Dog Waffles
A quick one-bowl recipe for your pup!
Ingredients
Dry ingredients:
1

cup

oat flour, spooned and leveled

(88g)

½

tsp

baking powder

½

cup

shredded carrots

(70g)
Wet ingredients:
¾

cup

pumpkin puree

(112g)

1

egg

½

cup

unsweetened apple sauce

(125g)
Instructions
Whisk together pumpkin puree and egg until smooth.

Stir in apple sauce until combined.

Add in all of the dry ingredients, mixing until no dry spots remain.

Transfer batter to preheated and greased waffle iron. Cook for about 4 minutes, or waffle iron light turns green / waffles are golden brown.

Let waffles slightly cool before feeding to your pup! Top with dog-friendly ingredients like peanut butter, bananas, strawberries, or chopped treats.
Notes
Store waffles in freezer for up to 2 months. I recommend placing wax or parchment paper between each waffle so they don't stick together.
This is an adaptation of Colleen's dog waffle recipe!