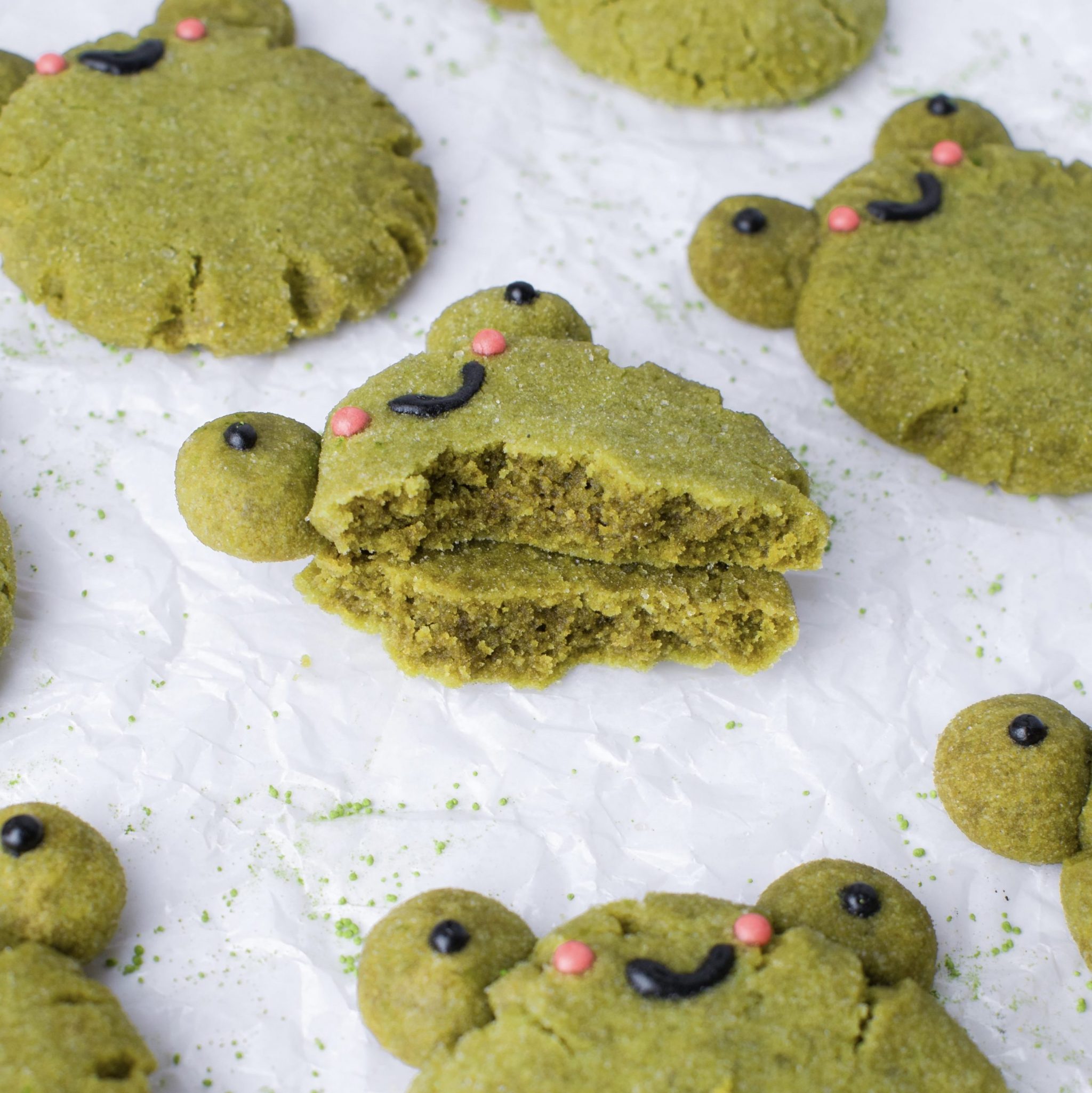 Estimated cost: $3.50 per 15 cookies, $0.23 per cookie
I've accidentally found myself making a series of various animal cookies. It started with my Soft, Less Sweet Ube Sugar Cookie Bears (Dairy-Free!), which led to my Pig-Shaped Snickerdoodles (Vegan), and now, these froggie matcha sugar cookies. They're really adorable, easy + fast to make, and have slight earthy, bitter flavors that are balanced out by the sugar. I am working on at least two more animal-shaped cookies that I plan on sharing with you, so stay tuned!
In comparison to my ube sugar cookie bears, these matcha cookies are not as cakey and have a bit of a chew to them. This is because they have a mixture of granulated white and brown sugars, instead of only using granulated sugar. Brown sugar is denser and retains more moisture in the dough, yielding moister, chewier cookies. In addition, before the cookies are put in the oven, the balls of dough are lightly pressed down using the palm of your hand or bottom of a cup. Since the cookies don't spread much while baking, this step yields flatter cookies unlike the puffy ube bears.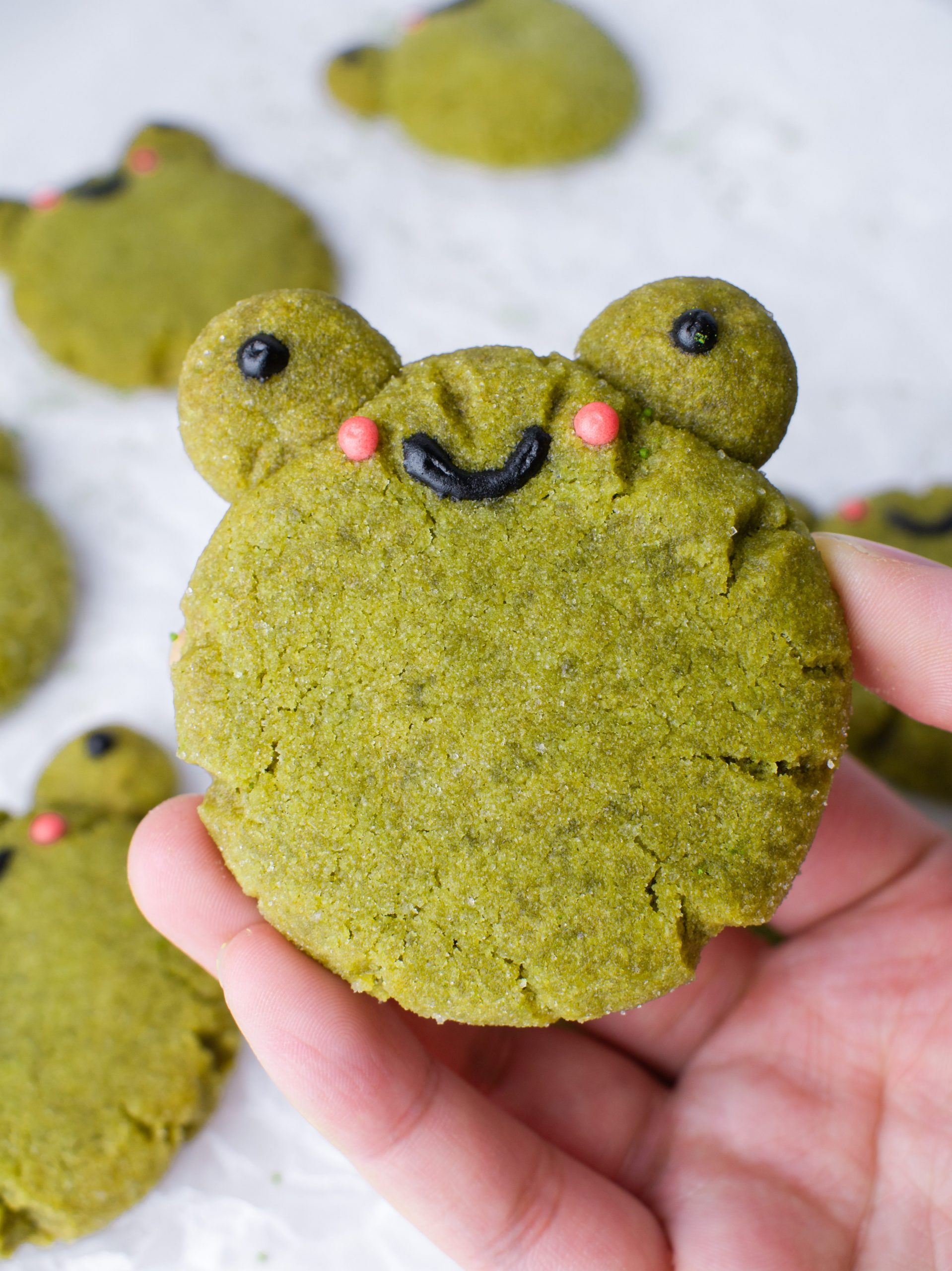 Shaping the dough
To make each frog cookie head, roll 1 & 1/2 tablespoon of dough into a ball, coat in granulated sugar, and place it onto a lined baking tray. Slightly press down on the ball with the palm of your hand or bottom of a cup to flatten them. For each of the eyes, roll 1/2 teaspoon of dough into a ball, coat in granulated sugar, and place the dough on the upper left or right side of the head. As they bake, the eyes will connect to the head and you will get these cute frog-shaped matcha cookies! Once they are cooled, you can decorate them with vegan royal icing or melted vegan milk/dark and white chocolate.
I really hope you enjoy this recipe. If you make these matcha sugar cookies, I'd love to see them. You can tag me at #bitesbybianca / @bitesbybianca on Instagram. Enjoy! 🙂
Frog-Shaped Matcha Sugar Cookies (Vegan)
These dairy-free matcha sugar cookies are earthy, slightly sweet, and chewy. They're naturally colored because of the matcha powder and are decorated using vegan royal icing. Feel free to swap in regular butter, milk, and royal icing if there are no dietary dairy restrictions. You can also decorate using melted (vegan) milk/dark and white chocolate!
Ingredients
Dry ingredients:
1 ¼

cup

all-purpose flour

(150g, $0.39)

1

tbsp

matcha powder

($0.80)

½

tsp

baking soda

($0.01)

¼

tsp

salt

($0.01)
Wet ingredients:
½

cup

dairy-free unsalted butter, melted and cooled

(1 stick butter/8 tbsp, $1.25)

¼

cup

granulated sugar

(50g, $0.10)

¼

cup

light or dark brown sugar

(50g, $0.27)

1

tsp

vanilla extract

($0.42)

2-4

tbsp

dairy-free milk

($0.15)
For rolling:
1

tbsp

granulated sugar

(50g, $0.10)
Decoration for face:
vegan royal icing, see recipe notes below. or use melted vegan milk/dark and white chocolate (dye the latter pink or red with oil-based food coloring)
Instructions
In a medium bowl, whisk together all of the dry ingredients: all-purpose flour, matcha powder, baking soda, and salt.

In a stand mixer using the paddle attachment (can alternatively use hand mixer or whisk), mix the butter and sugars on medium speed until combined. Scrape bottom of bowl. Add vanilla and mix again.

Dump in all of the dry ingredients and mix until combined. If the dough is crumbly, slowly add 2-4 tbsp of dairy-free milk until it comes together. The finished dough should be thick.

Preheat oven to 350°F/177°C and line two baking trays with parchment paper or silicone mats.

In a small bowl, add granulated sugar rolling the dough.

Use small cookie dough scoop to gather dough (about 1 ½ tablespoon each). Roll dough into granulated sugar mixture shape into ball, then place onto lined baking tray. This will be the frog's head.

For the eyes, take ½ tsp of dough, roll into sugar mixture, shape into ball. Place the eye on the upper left or right side of the head and repeat for the other eye.

Place frogs about 3-4 inches apart. They will not spread much while baking.

Bake for 10-13 minutes. Cookies should look slightly puffy and soft in the center, in addition to retaining their green color. They should not be browned.

Be careful to not over bake so they don't get crispy! They will continue cooking when cooling on the pan.

Let cool on pan for about 5-10 minutes, then transfer to wire rack. Let cool completely.

To add the faces, use pink and black colored vegan royal icing (recipe in notes below). Place into small piping bags and cut a small tip. Use black color for the eyes and mouth, then the pink for the blush. You can also use melted vegan milk/dark chocolate for the eyes/mouth and white chocolate dyed with oil-based pink/red food coloring for the blush.
Notes
I used this recipe for the vegan royal icing and I skipped the optional vegetable glycerin. It actually makes a lot of royal icing, so I already had a bunch of it stored in my freezer! It only takes about 10 minutes for it to thaw.
Store cookies in an airtight container at room temperature for up to a week.